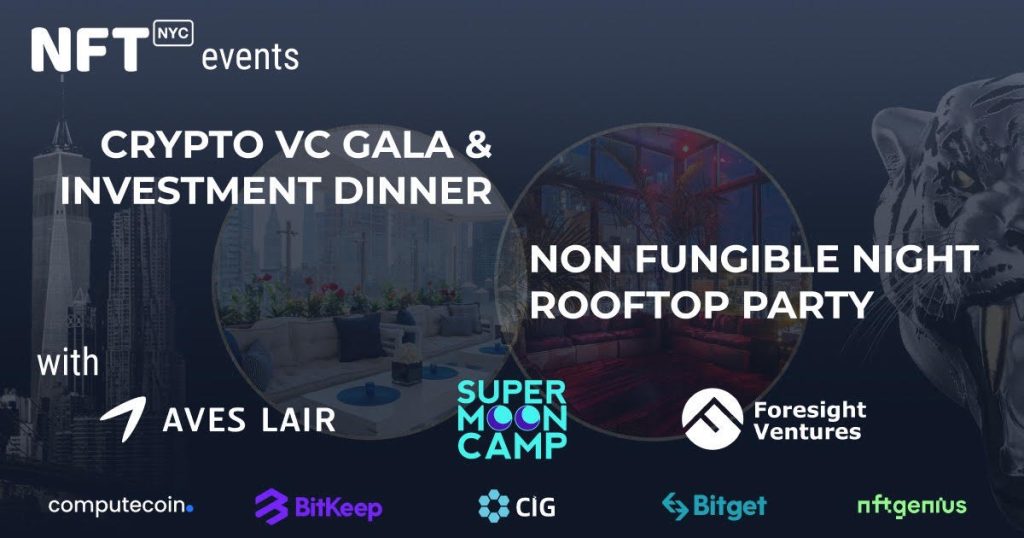 New York, US, 7th July 2022, ZEXPRWIRE, The debut collaboration between Aves Lair, Supermoon Camp, and Foresight Ventures stormed NFT.NYC week, gathering over 300 VCs and top-notch Web3 projects at their Gala and Nonfungible Rooftop night. 
The exclusive networking events at Mykonos Bleu and DL Rooftop featured top-class digital artists Exquisite Workers, eccentric tequila tasting with House of Rare, exclusive NFT giveaways from gamified social fitness metaverse platform Puml, and immersive editorial NFT experience Burble. Co-organizers Supermoon Camp shared the first of its exclusive membership NFTs, giving winners access to Supermoon's private events, media opportunities, and much more.
Supermoon Camp and FlashBack.one co-founder Elena Obykhova commented: "When people tell me that our event inspired them to start working together, it makes my heart happy. One of the primary goals of our community is to help talented individuals connect and innovate, and we have unquestionably achieved it."
Upcoming events will be announced this month, as Aves Lair is preparing to announce its new VC fund with a focus on Web3 founders as well as leveraging the resource network and range of capabilities to bring value, catalyzing growth for projects and founders in the space.
Foresight Ventures celebrated the recent launch of its accelerator program, along with its ecosystem partner Bitget and Bitkeep to bring more synergies into the NFT and Metaverse space.
The VC Gala and Nonfungible Night organizers
Aves Lair is a New York-based, early-stage VC with an ecosystem where visionaries, groundbreaking startups, industry leaders, scientists and investors are brought together to usher the new wave of innovation into the Web3 industry.
Foresight Ventures is an investment organization focused on blockchain technology and crypto business, investing in equity and token markets. Recently, it launched $200 million in secondary funding to purchase unvested tokens and SAFTs.
Supermoon Camp is an organization helping professionals build genuine and lasting relationships through an exclusive community of blockchain innovators, enthusiasts and high-impact networking events.
Co-organizers and supporters
Computecoin is a decentralized cloud infrastructure on a mission to bridge the gap between Web2 and Web3 by allowing developers and end-users to seamlessly transit into the Web3 economy 
Bitget is one of the world's most innovative crypto exchanges for buying, trading and earning crypto.
Bitkeep is the top decentralized multi-chain digital wallet in Asia. BitKeep integrates wallet, swaps, the NFT market, DApps and discovery in a single location. 
NFT Genius is a team of storytellers, technologists and innovators focused on delivering world-class digital experiences and marketplace technology to the NFT market. 
Crypto Influencer Guild is a DAO of Web3 influencers worldwide who are dedicated to helping more Web3 explorers grow and providing a fairer chance to participate in the space.
Media Contacts
Company Name: Supermoon Camp
Media Contact's Name: Eleanor Cunningham
Email Address:  [email protected]
City/State & Country: New York
The post Aves Lair, Supermoon Camp and Foresight Ventures hit success during NFT.NYC appeared first on Zex PR Wire.