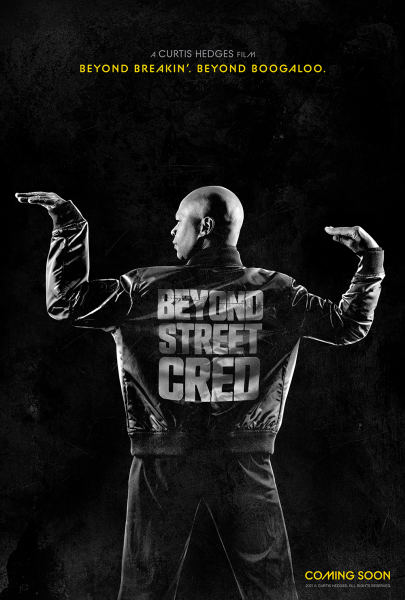 Los Angeles, CA – Beyond Street Cred launches a "first" with NFTs today uniting legendary Hip Hop Dancers and Martial Artists.
The best part of what Beyond Street Cred is attempting to do with its NFT release today has never been done before. Through the productions Smart Contract on the Polygon block chain, Beyond Street Cred is offering a modest but continual fund of money that goes directly to a reputable children's charity while allowing the cast and crew to be owners in their own film series. Never has this business model been attempted before in the Web3 space. You can be a part of film and metaverse history by supporting this project today.
Beyond Street Cred is aiming to be the first NFT funded film that is created, financed, directed, produced and starring the world's most iconic and accomplished Breakdancers, Poppers, Lockers and Martial artists alive today. A heart felt, all ages family fun experience where the best Hip Hop dancers and Martial Artist meet head on to tell a story unlike any other.
Starring Michael "Boogaloo Shrimp" Chambers who played the character Turbo in the Breakin film franchise of the 80's and Cynthia Rothrock who is known as the queen of martial arts with over 60 Film & TV credits to her name. Co-starring the talents of Co-creator Bboy Hung "Hella Hung" Van Lam, Bboy Leon "Vietnam" Carswell, Bboy Tchatcho out of Brazil, Bboy Adriano "Strech" Pappalardo out of S. Africa, the Dream Runnerz out of Taiwan, and a number of other talented Hip Hop dancers throughout the world.
Curtis Hedges (Executive Producer), Robert Creer (Producer), Alan Brooks (Producer) and Hung Van Lam (Co-Star) are doing something different with this production that they have never done previously with a film. Beyond Street Cred is currently offering 8888 limited edition Polygon NFT images and animated MP4s from the production where 10% of the initial mint and all secondary sales over OpenSea goes to St. Judes Children's Research Hospital. All NFT holders will gain unlimited gated access to watch the film from BeyondStreetCred.com when it debuts. As long as you have the NFT in your Web3 wallet then unlimited access will be granted with a few mouse clicks. There will be many raffles, giveaways, 1/1 NFT air drops and other incentives to supporters. One lucky random NFT holder will get a cameo offer for the film. Another random lucky NFT holder will win the actual jacket worn by Boogaloo Shrimp in the film's poster. The coolest caveat is free admission to live events that are a part of the film's marketing campaign where you can meet and greet the cast and watch a Hip Hop dance contest take place.
The Smart Contract behind this NFT aims to offer some unique features that brings rarity to the series as a whole. The production is introducing a specialized burning mechanism that deflates from its own NFT supply of 8888 still images. With every new Video NFT minted, the unsold supply of still images decreases making less NFTs available over time. This deflationary approach is quite unique for an NFT and considered a "first" within the Polygon block chain. Another great caveat is the ability to purchase your NFT using your credit card through our processing partner, crossmint.io. If this is your first NFT, we have made getting one as simple as possible.
Curtis Hedges is an accomplished independent film maker with several productions under his IMDb. Curtis possesses a 37 year background with Breakdancing. A senior partner with the OBS Group (Official Breakin Syllabus Group), Curtis is widely considered to have pioneered the first copyrighted scoring diagram called the International Breakdance Score System (I.B.S.S.) for head to head Breakin battles going back to October of 2000. Alongside Adriano Pappalardo, Curtis also co-wrote the OBS Book which debuted this year and is the first text book for the discipline of Breakin. Curtis also has a robust background with technology development and corporate management with previous experience as the director of IO Hawk in 2015 which was the company that introduced the hover board to the world and co-owner of Dimensions VR which was a Virtual Reality amusement franchise that was highlighted at the Consumer Electronic Show in 2018 for its innovation.
Robert Creer is a gorilla film maker producer and veteran breakdancer with over 30 years of hands-on experience with every facet of media production. A musician at heart, Robert plays multiple instruments with the bass guitar as one of his favorites. As a breaker, Robert is considered a Rock Dance specialist and has traveled to over 20 different countries as a judge and teacher to the discipline.
An Atlanta native, R. Alan Brooks is an author and professor who teaches graphic novel writing for Regis University's MFA program. His graphic novels, The Burning Metronome and Anguish Garden, both feature social commentary through a supernatural lens. He also writes a weekly comic for The Colorado Sun called "What'd I Miss?" Brooks is the host of the popular "MotherF**ker In A Cape" comics podcast, which focuses on marginalized members of the geek world. In addition, Alan is a musician and noted stage host, regularly emceeing celebrated events, like the DINK Awards Show, Arise Music Festival and more.
Hung Van Lam is a producer and actor, known for Malvolia: The Queen of Screams (2017), Cyborgs Universe (2020) and Legendary Producer (2020). He was one of the stars to Netflix's 100 Humans and has a veteran background as a Breakdancer.
Support this film and our charity partner by buying one of our NFTs today by visiting https://beyondstreetcred.com
The Official Beyond Street Cred Discord — https://discord.com/invite/puxkv9pKKb
Media Contact
Organization: Beyond Street Cred
Contact Person: Curtis Hedges
Email: Send Email
Phone: (818)579-1556
State: California
City: Los Angeles
Country: United States
Website: https://beyondstreetcred.com
The post Beyond Street Cred launches a "first" with NFTs today uniting legendary Hip Hop Dancers and Martial Artists. appeared first on King Newswire.

Information contained on this page is provided by an independent third-party content provider. Binary News Network and this site make no warranties or representations in connection therewith. If you are affiliated with this page and would like it removed please contact [email protected]