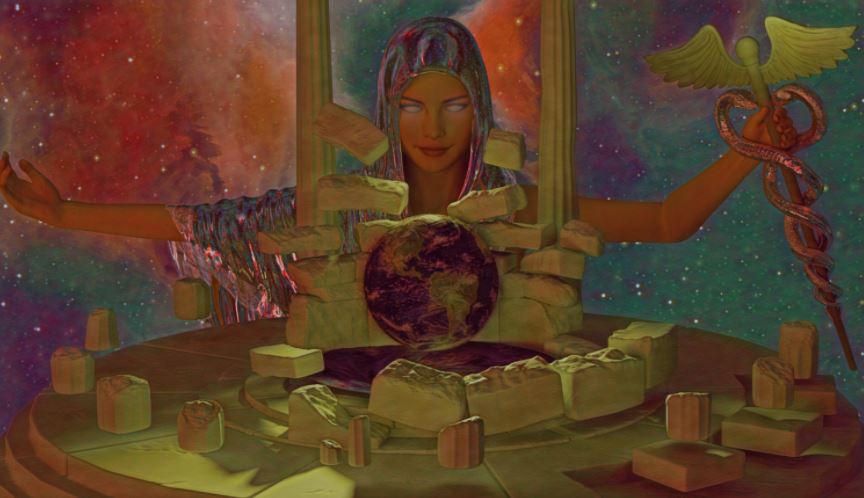 Ontario, Canada, 18th Nov 2021, ZEXPRWIRE, The enigmatic artist known as "Esotera" has unveiled their cutting-edge collection of NFT's to the world with a revolutionary upswing for the future of the technology. This constitutes a huge leap for the blockchain backed artistic movement that has been hovering dangerously close to 'uninspired'.
With artists like Esotera breaking into the non-fungible-token scene, you can expect a large number of art investors to move away from bulk-generated art projects and focus more on tokens that show a mastery of the craft as pictured in the painting "Revelation of Ego".
We asked Esotera about the inspiration behind his work and what motivates somebody to create works of art with such gravitas:
"Well I think it comes down to an appreciation of our experience of life as human beings. I didn't come into this with the mindset that I'm going to become some rich famous artist, I just wanted to create art that people can really be inspired by and can relate to on an existential level."
The NFT scene as a whole has taken the world by storm this year as sales and re-sales have moved into the hundreds-of-millions of dollars range. You can expect things to continue to grow as more people migrate to the digital-world for their investment portfolios.
Looking at a collection like "The Secret Teachings", one can definitely expect a large resurgence of renaissance style epic art as the community begins to take notice of those blessed with the scope and skill to really make something truly collectible and worthwhile to invest in.
Esotera's collection "The Secret Teachings" currently consists of four different works:
Birth of the Cosmos
Divine Ascension
Revelation of Ego
Shepherd of Awakening
Each of the works are available in an extremely limited quantity of 998, so if you plan on collecting the whole series, do it now while you still can. They're currently priced at an exceptionally undervalued 0.0054 Ether. They trade on the Polygon Blockchain which means the gas fees are negligible, so you won't be wasting your hard earned crypto on transaction fees. Polygon also makes the migration of your NFT's to the Ethereum blockchain painless and affordable.
To stay current with Esotera paintings be sure to check out his twitter @EsoteraNFT and his collection of NFT's on Opensea. 
The post Breakthrough NFT Artist "Esotera" Stuns the Crypto Community With New Collection "the Secret Teachings" appeared first on Zex PR Wire.