Dubai, UAE, June 23, 2022, ZEXPRWIRE,  MetaDecrypt offers great news for startups and university students looking to create innovative blockchain-enabled projects for the Web3 era. MetaDecrypt wants to empower entrepreneurs, especially young people, from around the world to build a future ready ecosystem for Web 3.0. This is a first-of-its-kind global competition aiming to provide a platform for immensely innovative Web3 projects and communities worldwide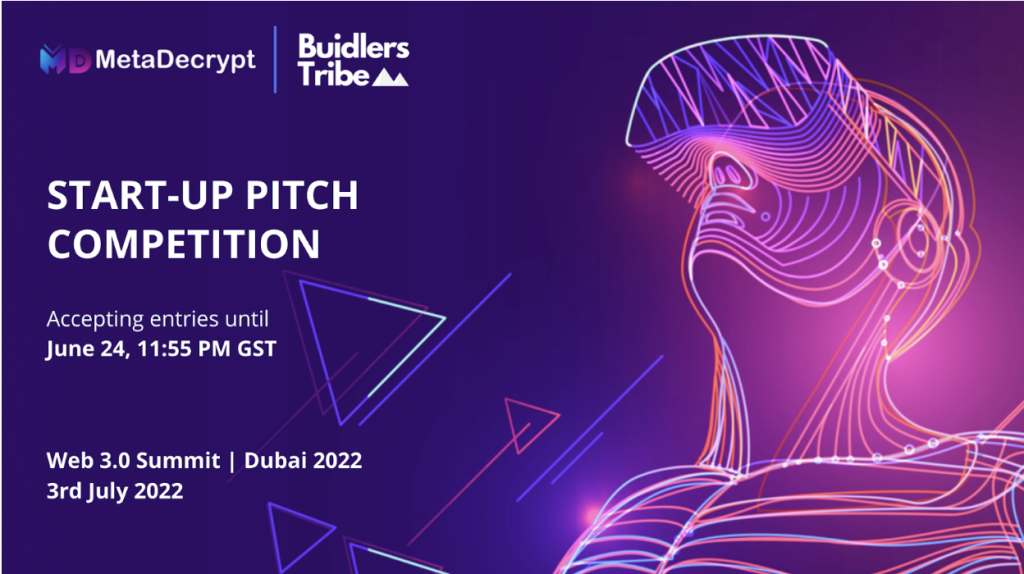 MetaDecrypt has partnered with Buidlers Tribe, a consulting firm based out of Singapore and to host this Web3 pitch competition. Early this year, Buidlers Tribe also hosted the startup pitch competition in India along with Coinbase Ventures.
The main objective of the pitch competition is to scout for innovative Web3 projects and ideas that need funding and investments. The call for entries is open to corporate-startup enterprises, developer teams, distributed autonomous organizations (DAO) or non-fungible token (NFT) projects/communities, metaverse, DeFI, GameFi projects working on a commercial business product or service that uses blockchain technology. MetaDecrypt and Builder's tribe will collaborate with leading Venture partners to accelerate and support projects that will emerge top of the competition.
All Pitch Fest entries will go through an evaluation process, with the finals taking place on the last day of the must-attend cryptocurrency, blockchain and MetaDecrypt Web3 Summit of the year scheduled for July 2-3 2022, in the Museum of the Future, Dubai, UAE. 
A cohort of the top twenty-five shortlisted startups will pitch via video entries and the best will be chosen to come and participate in Dubai on July 3 2022. These top 25 entries will be eligible for Belief DAO grants, and the top ones will be provided mentorship and grants upto $25k. The jury consists of a panel of web3, cryptocurrency and blockchain trailblazers and venture capitalists. 
Why Apply?
The competition is global. The top teams will represent the world's most innovative projects/startups in Web3 space with commercial viability and global impact. Finalists will gain exclusive access to MetaDecrypt & Buidlers Tribe global innovation & investor community and expertise in the blockchain & Web 3.0 space. If you are a startup or you have a great idea and are building an exciting project in the Web3 space, then this is the best way to get the funding you deserve. Please fill in the application form

app.buidlerstribe.com before June 24, 2022.
Timelines

Fill in the application form

app.buidlerstribe.com

Send in your entries before June 24, 11:55 pm GST

25 semi-finalists will be shortlisted on June 25, 2022

Top 5 pitches will be shortlisted on June 26 to come and showcase their project in Dubai on July 3 

All top 25 entries will be eligible for Belief DAO grants, and the top ones will be provided mentorship and grants upto $25k.
Startups interested in applying to the startup pitch competition are encouraged to apply before the next selection period comes to a close on June 21, 2022.
To know more about the event https://event.metadecrypt.co/ and to book your tickets for the event https://www.eventbrite.com/e/metadecrypt-web-30-summit-dubai-tickets-337045761947
About MetaDecrypt
MetaDecrypt is a leading metaverse and blockchain development company with a mission to bring the universe to Metaverse by providing all the tools, services and connections necessary to propel growth and transformation for existing or new blockchain companies. MetaDecrypt delivers end-to-end solutions for blockchain and metaverse projects across the globe. A blockchain technology company with a team of 40+ skilled developers, certified blockchain architects, specialist consultants and experienced creative professionals. Harnessing the power of big data and machine learning, MetaDecrypt delivers NFTS, Metaverse, Cryptocurrency tokens, custom enterprise, Main-Net, and public Blockchain solutions for startups and corporations, streamlining the operations and ensuring maximum security.
PR Contact:
The post Call for Entries – MetaDecrypt in partnership with Buidlers Tribe announces the Web3 Pitch Competition appeared first on Zex PR Wire.