Ankara, Turkey, 18 Feb 2022, ZEXPRWIRE, A FREE and open source decentralized social media platform (Comyz.com) is under development, the platform will serve all segments of the society, from people seeking to communicate with family and friends, business owners and companies, up to Freelancers.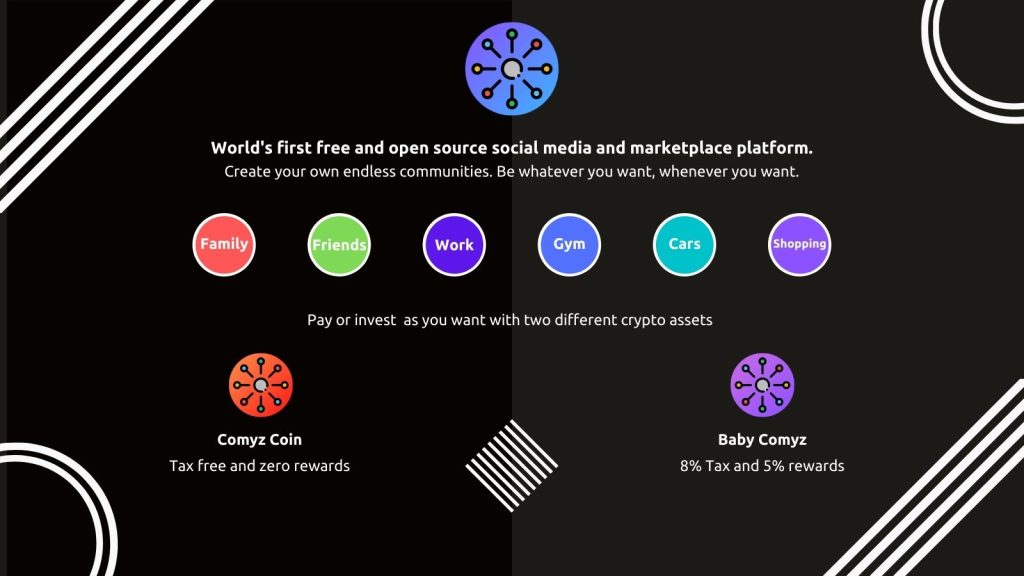 From one account, people can create different profiles according to their needs and moods, each profile is separated from the other, the user can assign different names to each profile to protect their privacy, whether they want to use their real name or a nickname. All this can be moved between them with the click of a button, no mazes and no complications. For example, the user can create a profile to communicate with the family, another profile for close friends, another profile for work friends, another profile as a freelancer, or a profile for their business or company, all these with privacy in mind, no one knows how many profiles they have.
A demo video: https://www.youtube.com/watch?v=fVVrrHw9kRw
All this comes without compromising users' privacy and security, also without annoying ads and with a secure payment method that the developers designed especially for the platform. Comyz Coin $CMZ is a decentralized token that is designed to be simple and useful to the community.People can use it for payments or investments without fees or limits from the developers side.
Users will be able to pay and send money to family and friends with the click of a button, business owners and independent business owners will be able to sell their products without commissions to the platform.
Some of Comyz community started complaining about the Zero rewards on holding Comyz Coin, Therefore, the developers decided to create a new secondary coin that would provide rewards to its holders, Baby Comyz $BCMZ holders who hold 1 million Baby Coins or more will receive 5% returns for each transaction on Baby Comyz, the rewards will be paid automatically in Comyz Coin.
For more info:
Comyz.com – Comyz Finance – Comyz Coin – Baby Comyz – Telegram – Comyz Twitter – Comyz Finance Twitter – Github
Media Contact:
Company Name :- Aljanabi Tech Solutions LLC
Email Id :- [email protected]
Company Website :- https://comyz.com
The post Comyz.com – World's first free and open source social media and marketplace platform with secure and tax free crypto currency appeared first on Zex PR Wire.