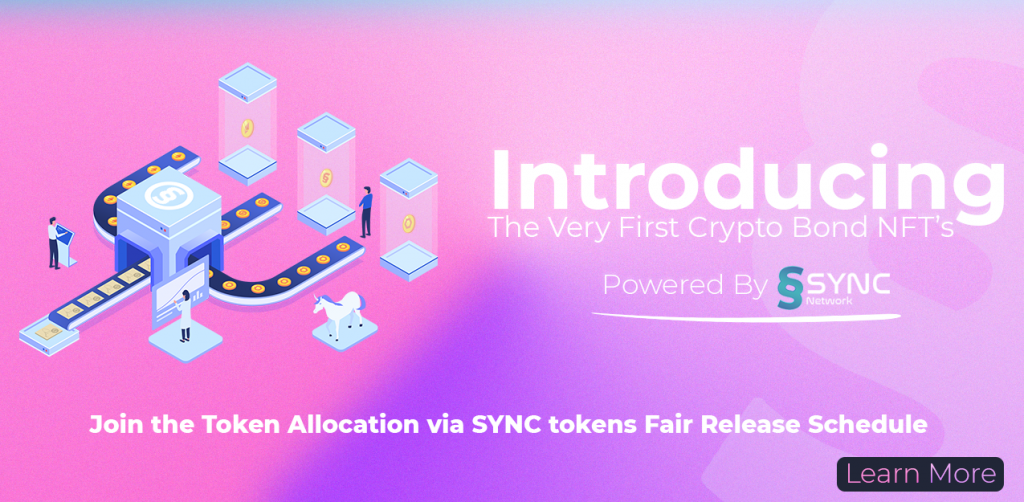 USA, October 26, 2020, ZEXPRWIRE, The SYNC Network is a new two-contract DeFi project, comprising the SYNC (ERC-20) contract and the Crypto Bond (ERC-721). It introduces a vibrant way to trade while protecting liquidity.
The network requires that investors add 50% SYNC tokens to each Crypto Bond, ensuring the tokens' stability while improving their liquidity pools. 
The SYNC project strengthens crypto as a whole via blockchain adoption, safeguarding users' wallets, and incorporating research markets. Users can create Crypto Bonds with a wide variety of tokens consisting of 150 different liquidity pairs.
The CBonds trade on the NFT market place, creating new trading packages of financial assets that bring a unique speculative market to investors.
xBTC Locks Liquidity Into SYNC Network
xBTC and SYNC have shaken hands to strengthen their collective goals in DeFi. xBTC, which seeks to create a suite of more accessible and rewarding digital assets, recently committed to locking $100K of their Uniswap liquidity on SYNC Network.
In turn, the SYNC network chose to match the liquidity lock with SYNC tokens for a combined $200K in Crypto Bond creation. The investor can't remove the liquidity from Uniswap before the Crypto Bonds maturation.
xBTC realizes that SYNC offers a revolutionary way of conceptualizing liquidity pools by merging Crypto Bonds with DeFi. xBTC now stands to benefit from mitigated risk for the digital assets bonded to SYNC ERC-20 tokens. Locking funds on the SYNC network also furthers xBTC's goal to its novel synthetic derivative structure with real assets across multiple liquidity pools.
Following the partnership, SYNC will whitelist xBTC on its network; all users can now create a crypto bond with xBTC liquidity pool tokens. Besides collaborating with xBTC, SYNC network is making other strides to build a more dynamic and robust crypto market.
The project has scheduled a SYNC token distribution via a Fair Release Schedule set to commence in about twenty days. 300 million tokens are available for minting for 360 days, with the FRS set to conclude in November of 2021. 
Earn High Returns with Crypto Bonds
With SYNC, you can earn interest on your crypto holdings while strengthening the liquidity of that asset.
At the time of creation, a Crypto Bond takes equal dollar amounts of liquidity provider tokens from Uniswap and SYNC tokens and locks them into a Non-Fungible Token (NFT). Anybody can create and customize their Crypto Bonds to their liking.  
The SYNC network's automated bond market maker executes the bond's immediate sale on behalf of a user without the need for an auction.
During the creation of a Crypto Bond, SYNC tokens contained within it are removed from the total supply. This way, the DeFi protocol maintains the scarcity of the tokens and their relevance in the market.
Upon maturation of the Crypto Bond, the SYNC tokens are re-minted with the earned interest.
Term Crypto Bonds earn term interest on a user's SYNC upon maturation. Term Crypto Bonds are available in 90 days, 180 days, 1, 2, & 3-year time durations. Interest rates readjust daily to meet supply and demand rates of the SYNC tokens' available supply.
If users choose dividends, they can withdraw a quarterly payment of SYNC at any time after every 90 days lapses. When a bond matures, liquidity tokens are returned, and all Uniswap fees are still the holder's to keep.
SYNC Network incentives the strengthening of liquidity pools. Essentially, the more liquidity locked via Crypto Bonds directly relates to more market certainty for investors.
The Crypto Bonds spread downside risk across all the assets bonded to them, allowing investors to earn high yields at mitigated risks.
Moreover, users can transfer their Crypto Bonds to another wallet address at only the expense of a GAS fee. 
Media Contacts –
Email – [email protected]
Company – SYNC Network
Website: syncbond.com
The post Crypto Bonds by SYNC Network: Securing Partnership, Facilitating The DeFi Space appeared first on Zex PR Wire.