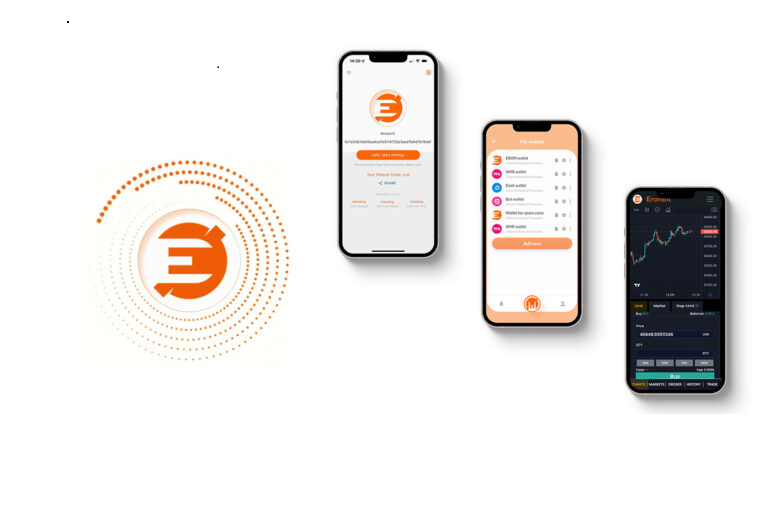 București, Romania, 25th May 2022, ZEXPRWIRE, ERON Project (https://www.eronproject.com) has been around since the beginning of 2021. Although ERON is creating its own blockchain and focusing its attention on launching apps that are custom tailored for the needs of its users, ERON is also a charity project that wants to help underdeveloped areas of the world by donating utility networks (water, electricity and gas) using up to 50% of the company profits.
While creating its ERON ecosystem, the team is preparing several apps with unique features.
ERON Miner, that is currently available for Windows OS, is a "fair" miner that uses less than 1% of the device resources. It can be used on any kind of computer running Windows OS, as it doesn't need huge computing power. Users can earn 1 ERON/hour by mining and 20% of the current mining rate of every person that is mining in their direct downline.
ERON Wallet is an app that will be launched in both centralized and decentralized versions. Users will be able to use Bitcoin, Ethereum, Binance Smart Chain, Polygon, Solana, Avalanche and ERON blockchains in the beginning and they will be able to import any token contract within the Wallet. The centralized version will use a unique security feature through a digital signature for every user, thus bringing a new level of defence against breaches and hacks.
ERON Pay is the payment processor of the ecosystem and besides the obvious FIAT-to-crypto and vice versa conversions, it will also give its users the possibility to have a Mastercard or Visa card that will be linked to their wallets, making it easier for users to spend their crypto in real life.
The app that will be launched on May 28th, 2022 (20:00 EEST) is ERONbit (https://www.eronbit.com), the exchange platform of ERON blockchain.
What sets apart ERONbit from other exchanges, is that it is a platform that integrates a CEX, a DEX, an NFT Minting Module and Marketplace, a Launchpad for new coins and a B2C Marketplace.
With a lot of unique features ERONbit plans to attract a lot more users by also giving them a referral system through which they can gain passively, by just having a downline.
Because the team understands that the native coin of a blockchain has to have unique features as well, it has developed a paying system in ERONbit for lower fees when users pay using ERON, a staking module to reward its holders and a plan to capitalize the value of ERON within the next years, by using up to 25% of the company profits to buy back its coin.
For now, the ERON coin is listed on BitMart Exchange and XT.com and they have their charts on several important platforms such as Binance, Crypto.com, Coinmarketcap and Coingecko.
Media Contacts
Company Name:-Eron Project and Development SRL
Email:-[email protected]
Website: https://www.eronproject.com
Exchange: https://www.eronbit.com
Telegram Group: t.me/eroncoin
The post ERON COIN is launching ERONbit Exchange, a unique HEX appeared first on Zex PR Wire.