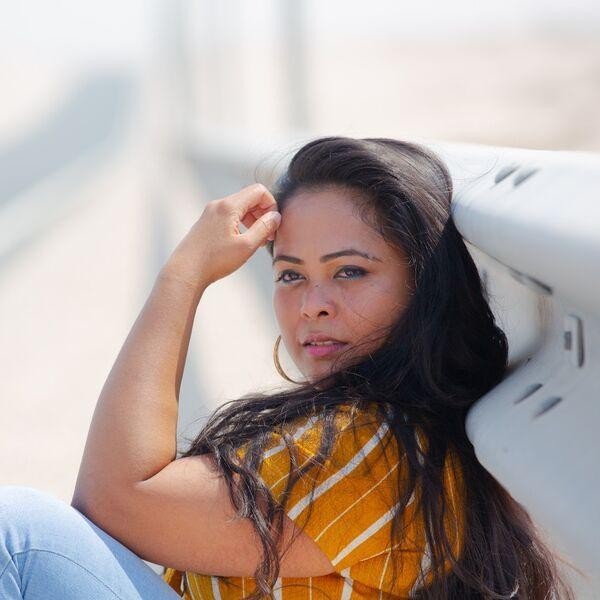 Negombo, Sri Lanka, 13 Sep 2021, ZEXPRWIRE, Rubeena Shabnam is a teacher , RJ, Anchor and an upcoming Singer. She was involved in the Sri Lankan music industry way back in 2007 where it all began when she was asked to come for music videos by hi-pleat (manike) then followed by spin circuitz (thurulata lan wee). She also featured for one of Spin Circuitz album songs called " Power of Sc.", Rubeena Shabnam was born on the 20th of December 1987. She hails from the Malay community in Sri Lanka and Now currently living in Qatar. She aims to continue music as a career with the motivation and encouragement from her closest music colleagues from Qatar and Sri Lanka , Without the support of her family, Rubeena would not have thought of becoming an artist. Their encouragement and support was the one that kept her going.
In 2017 Shenal Maddumage composed Rubeena Shabnam's 1st single "Ma Dase" featuring Lucky Lakmina Agalawatte and her 1st stage performance was in December 2017 called "Peace Tour." 2020 Rubeena joined a Sri Lankan radio station based in Qatar as a RJ. She has interviewed international Sri lankan artists like Arjun Coomaraswamy and the youngest kart
racer Yevan David which she is very proud of and not forgetting few well known artist along with upcoming artist in Sri Lanka. The Sri Lankan Radio station team decided to do a Sri Lankan Independence Day song in 2021 "Nidahasei Sewoma" which was composed by an Indian producer named Vishnu C Divakaran.Year 2021 was a great year for Rubeena as she started gradually entering back into the music industry. "Mile Ho Tum Humko" was her 1st hindi cover song she did along with Dileepa Liyanage. They were known as the 1st Sri Lanka duo to do a Hindi cover song in Qatar. Rubeena also then featured and worked as the production manager for a Ramadan song called "Ya Ramadan" along with Record on Studio Qatar.Following that she featured and was the production and art director for a vesak song called "Muni Siripade" that was initiated by Record On Studio Qatar.
As a comeback song Rubeena released her 2nd original track called "Santhose" featuring Murshad Huvais and produced by Shenal Maddumage on all streaming platforms. Although being in Qatar she was able to feature for a couple of artists in Sri Lanka in tamil and sinhala language. Rubeena also has started doing voice overs for commercials. Soon she will be releasing her solo track produced by Dinesh Hemantha of DH Wave Music and hoping to work on more tracks along with them and hopefully with other musicians out of Sri Lanka.
The post Featuring One Of The Rising Sri Lankan Artist and Radio Personally From Qatar appeared first on Zex PR Wire.