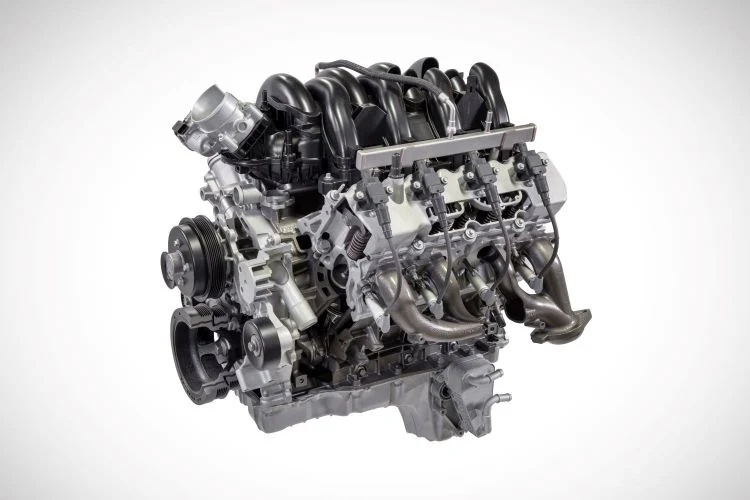 The Godzilla engine is a V8 engine as a part of the Ford's engine line and just might be the most powerful Ford engine ever built. The Godzilla engine is designed to be a replacement for the 6.8-liter Mod V10 Ford engine like these, https://reman-engine.com/remanufactured-engines/ford. It started being manufactured in Ford E-Series vans and Super Duty pickup trucks beginning in the model year 2020. As this engine utilizes pushrod-activated overhead valves, it's smaller than most overhead-cam Ford Mod engines, and, as a result, has the ability to be fitted or modified for older car models.
Design specifications of the Godzilla engine
The Godzilla engine is a naturally aspirated V8 model. By "natural aspiration," this means that air intake comes solely from atmospheric pressure and does not utilize forced air induction through a turbocharger/supercharger. It has a 7.3 L (444.9 cubic-inch) displacement, a 4.22 in. (107.2 mm) cylinder diameter, and a 3.976 in. (101 mm) stroke length for the piston. The engine block itself is forged of cast iron, and the combustion-chamber roof (head) is built of aluminum. It has an overhead valve engine valve train, and a 10:5:1 compression ratio ( ratio between the cylinder volume and combustion chamber at their max. and min. values). The Godzilla utilizes a multi-point injection fuel system (MPFI) with gas fuel.
Power and output specifications of the Godzilla engine
Now for the really good stuff. They don't call this engine "Godzilla" for nothing.
The Godzilla engine line has three power outputs: 300 hp (224 kW) at 3,750 rpm; 350 hp (261 kW) at 3,900 rpm; and 430 hp (321 kW) at 5,500 rpm. Correspondingly, the Godzilla engine has three levels of torque output: 425 lb⋅ft (or 576 Nm) at 3,250 rpm; 468 lb-ft (635 Nm) at 3,900 rpm; and 475 lb-ft (644 Nm) at 4,050 rpm.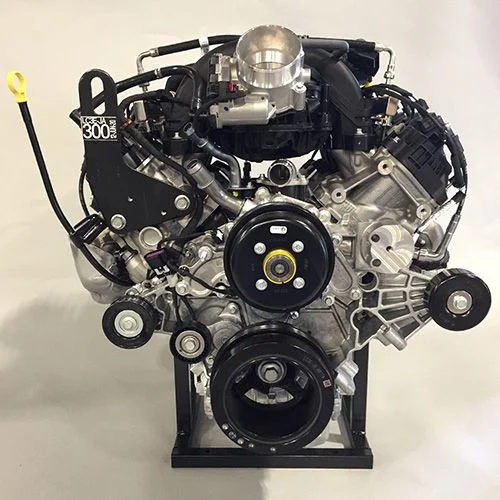 Other specifications
The Godzilla engine comes with a variable valve timing camshaft. Variable valve timing (VVT) involves altering a valve lift's timing; this process is often utilized for performance improvements, and improving fuel economy/emissions). It has a hypereutectic aluminum alloy piston. A hypereutectic piston is a type of internal combustion engine piston-cast that utilizes a hypereutectic aluminum alloy which makes the component more durable as a whole.
The Godzilla engine has no variable displacement (a factor that improves durability), knock sensors (a feature the Ford Boss also has), Siamesed cylinders that have saw cuts between the cylinder bodies to help with cooling speed and capacity, and utilizes a variable oil pump to help maximize fuel efficiency.
Vehicles featuring the Godzilla engine
The current vehicles utilizing the Ford Godzilla engine include the 2020–present Ford F-250, 2020–present Ford F-350, 2020–present Ford F-450, 2020–present Ford F-550, 2020–present Ford F-600, and the 2021–present Ford E-350.
A de-tuned 'Premium' version of the Godzilla engine operating with 350 hp/261 kW at 3900 RPM and 468 lb-ft (635 N⋅m) @3900 RPM) can be fitted to the Ford F-600 and F-700 trucks as well as the E-Series van chassis.
A powerful engine
The Godzilla engine packs a punch of gasoline-driven torque starting even from the very lower rpm numbers. The ability to maintain torque and displacement across the entire range of rpm it offers is part of what makes this enthusiast's dream of an engine unique. But it's not built for quick flashes and a quick demise; its components are manufactured for efficient power, and it's designed to haul demanding loads over long stretches. The Godzilla engine is the first Ford gas heavy-duty engine built in over two decades, and by every technical metric, the most powerful Super Duty gasoline engine ever created. And that's before any mods.
But Ford cares about durability as much as it does about power. Ford utilized techniques for the Godzilla with materials it uses in its boosted diesel/gas engines, such as ring coatings, the bearing components, and even the way the rods were designed. These features helped allow the Godzilla to endure 3,200-hour full simulations, such as running at max output for multiple hours in high-temperature ranges with zero decline.
To sum up, Godzilla is an absolute beast.