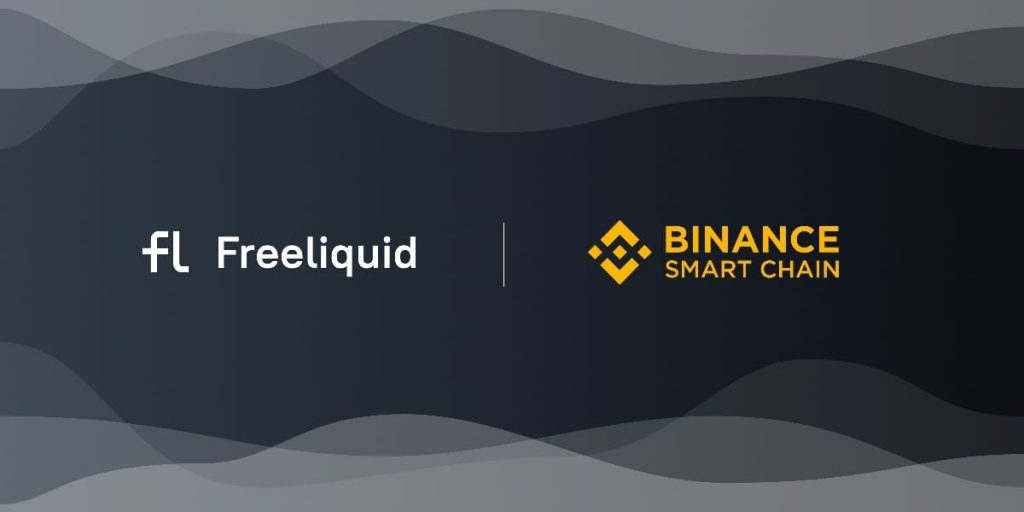 George Town, Cayman Islands, 13th March 2021, ZEXPRWIRE – With the decentralized finance market in full swing, it only makes sense that a noticeable upsurge in crypto-backed lending is being observed. Digital asset enthusiasts have now understood that crypto-backed loans create new revenue opportunities without tampering with one's current capital inflow. 
In other words, in the absence of idle cryptocurrencies, one can leverage crypto-backed loans to open additional revenue streams. This happens without sacrificing profits obtained through price growth, staking, yield farming, or providing liquidity within AMMs. Such is the case with Freeliquid, an innovative service that provides users with stablecoin loans in exchange for collateralizing their liquidity pool tokens. 
Understanding Freeliquid's Value Proposition
Automated market makers (AMMs) work by having users deposit two tokens of an equal dollar value to a liquidity pool. Contributors are then rewarded with a share of the transaction fees incurred by the pool, proportionally to their deposits. To keep count of everyone's contribution, AMMs give out LP tokens that mirror contribution sizes. These tokens are quintessential to pulling one's liquidity out of the pool, but they hold additional, often unexplored use cases. 
Freeliquid has built a next-gen platform designed to collateralize LPs in order to supply stablecoin loans of up to 90% of the liquidity pool's size. The process entails no unnecessary fees, with loans being paid out in the USDFL stablecoin that's pegged to the US Dollar. 
Freeliquid seamlessly collateralizes stablecoin pools in DAI, USDT, USDC, and USDN, across all Ethereum-based liquidity pools. As a fully-decentralized and censorship-resistant stablecoin, USDFL can then be used to take advantage of additional opportunities within the cryptocurrency market.
If it's not clear by now, what Freeliquid does is essentially doubling the income potential poised by cryptocurrency ownership. By making use of the platform, investors continue earning their pool share of transaction fees, yet are also able to deposit the funds elsewhere. Smart investment decisions using the USDFL stablecoin can easily double one's APY. Since there are no interest fees being charged, USDFL is also incredibly cost-effective. 
The lending terms are meant to inspire and facilitate financial freedom, thanks to their highly-flexible nature. The only risk poised by Freeliquid consists in a user's inability to repay their loan, in which case the collateral becomes inaccessible. Obviously, Freeliquid is not at fault in such cases, nor is it able to change its policies due to smart contract immutability.
Decentralizing Governance with Freeliquid
Freeliquid's beliefs in freedom are deeply ingrained within its core values, which is why the platform adopts a community-centered governance mechanism. FL serves as the product's native governance token, allowing holders to easily vote on any team or community proposal. 
Announcing the Expansion to the Binance Smart Chain
While Ethereum remains the home of the DeFi market, the sudden surge of new users and capital has led to scaling difficulties and rising transaction costs. In some cases, users report noticing gas fees as high as their transaction amount. The market's response was entirely logical – the creation of new DeFi-focused blockchain protocols, with the Binance Smart Chain being Ethereum's closest competitor. 
Freeliquid has operated exclusively on-top of the Ethereum chain, but the team has now decided to expand to the Binance Smart Chain. As the expansion takes place, Freeliquid users will remain unaffected, with no friction expected. 
From a technical standpoint, the Freeliquid contracts will be forked and thereby adjusted to fulfill all requirements preset by BSC's infrastructure. These smart contracts will be separate, albeit there will be a bridge connection for USDFL and FL token interoperability. 
Over the last few months, BSC has seen billions in capital deployed to its smart contracts, with record-breaking liquidity provided on its popular AMMs like PanCakeSwap. Indeed, the BSC is infinitely more centralised when compared to the ETH chain, yet it provides a stable, scalable, private, and cheap infrastructure for today's growing DeFi needs. 
The BSC integration is expected to be finalized in the 2nd quarter of 2021, with most usage guidelines remaining the same. To learn more, check out Freeliquid's website, Telegram community, and Medium page.
The post Freeliquid Expands Liquidity Pool Lending Solution to Binance Smart Chain appeared first on Zex PR Wire.