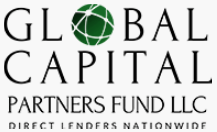 The US-based private lender offers exceptional financing options to help clients grow their businesses
New York, USA, 14th June 2022, ZEXPRWIRE, Global Capital Partners Fund LLC is a private hard money lending company based in New York. They've got a team of experienced financial experts who help their clients find the perfect asset-based loan deal to close commercial projects in time.
Many entrepreneurs in the US believe that financing is the most challenging problem they face when they're starting a company from scratch. Since banks have tightened their lending procedure, opting for bank loans isn't a great idea. In such circumstances, private lenders can assist emerging startups and large corporations by offering quick financial solutions.
Global Capital Partners Fund LLC is a renowned asset-based lender that has funded over two billion dollars to clients in fifty US states and foreign countries. They provide bridge financing and specialized hard money loans to help clients purchase commercial properties for their projects.
While talking about their asset-based loans, a company representative stated, "We understand that commercial projects often get delayed because of lack of payments. We want to help our clients complete their payments and kickstart their projects using our financing options. Our underwriting teams accurately analyze a client's financial condition and helps them find the perfect hard money loan deal."
The private lending firms offer acquisition financing to help companies purchase a wide range of properties, including warehouses, construction sites, raw land, and multi-family commercial buildings. They aim to help clients with low business credit scores and deteriorating financial conditions. This is why the private lending company offers asset-based loans which use a property as collateral.
More details about the asset-based financing provided by Global Capital Partners Fund LLC can be found using the contact information given below.
About Global Capital Partners Fund
Global Capital Partners Fund LLC is a US-based private lending firm that delivers asset-based loans to clients. Their excellent financing options help companies finish their commercial plans. They offer asset-based loans to help clients with low credit scores receive adequate financing.
Authorization
"I, Ricky Taylor, am an authorized distributor of news and have the authorization to use the company's name, Global Capital Partners Fund, in press releases."
Media Contacts
Company Name: Global Capital Partners Fund LLC
Website: https://gcpfund.com/
Contact: 1-800-514-7350
Address: 555 Fifth Ave. Suite 1501, New York, NY 10017
Email: [email protected]
The post Global Capital Partners Fund LLC Provides Asset-Based Loans to Help Clients Complete Their Commercial Projects appeared first on Zex PR Wire.