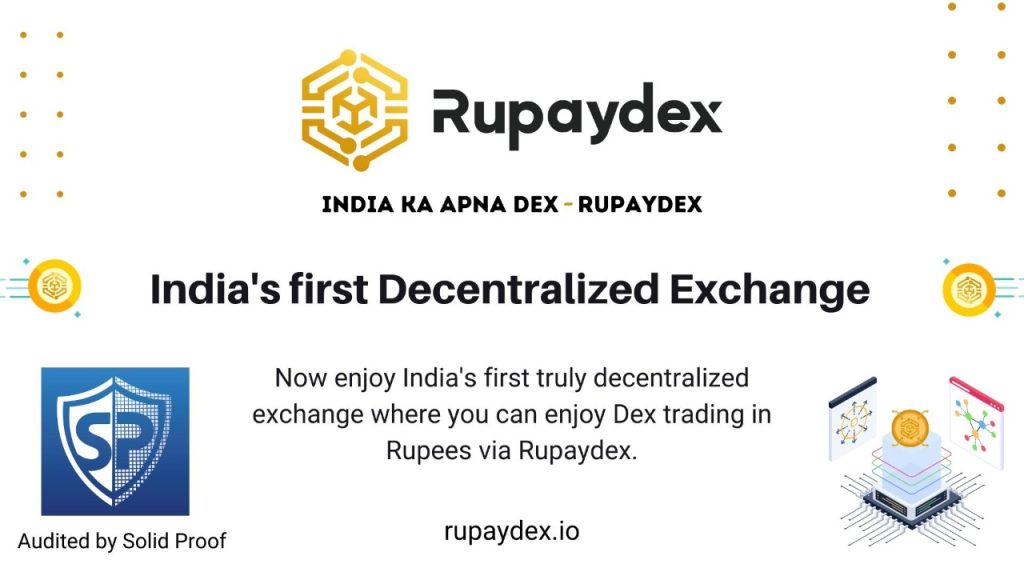 Delhi, India, 3rd May 2022, ZEXPRWIRE, RupayDex, which was first conceptualized in 2022, will provide a solid platform for application-specific networks to connect and deploy easily. Interoperability between different assets on multiple networks is possible from our perspective. Our technical DEFI approach can tackle problems that have hampered DEFI in the past. This will be accomplished by developing an effective aggregation protocol that will intelligently aggregate liquidity from the whole crypto market on one decentralized platform — RupayDex. Beyond the moon and mars, we're aiming towards RupayDex.
What are our identities?
The Binance smart blockchain network has proven to be a competitive launch pad for new DEFI initiatives. With the current surge in BSC (Binance smart chain) usage, we've already seen some indications of end-user attitudes and behavior. As a result, RupayDex will continue to operate on Binance's smart chain, commonly known as BNB Chain.
OUR OBJECTIVES
Our long-term objective is to generate a system that can communicate with both centralized and decentralized exchanges. This will enable safe cross-chain trading as well as access to liquidity throughout the whole crypto market. RPX will establish a community-based ecosystem of assets that will make a significant contribution. While also helping to establish markets, provide liquidity, and promote blockchain use as a whole.RPX tokens are used to generate interest and earnings. Because cryptocurrency is so volatile, only a small amount of RPX revenues will be used to invest in more reliable assets. To stabilize the RupayDex Ecosystem, financial markets or Defi protocols could be used.
Apart from an aggregated swap, RupayDex will continue to aggregate derivatives, yields, loans, and insured staking products, as well as create its combined margin using RPX tokens. We will also give APIs and arbitrage tools in the future to allow users to run automated arbitrage schemes.
Audited by Solid Proof, Rupay Dex has several Specialised Features such as:
IDO launchpad
SIP – SIP in Crypto
Blockchain Bridges
Multi-chain DEX
NFT Marketplace
Staking Aggregator
Yield Farming
Cryptocurrency lending or borrowing
Trading Incentive System That Isn't Like Anything You've Ever Seen
Here's how we came up with our answer, a one-of-a-kind trading incentive system:
The most pressing challenge for a newly launched AMM exchange is how to quickly generate sufficient trade volume. Liquidity providers might earn more money if there is more trading volume.
Traders that trade in specialized trading pairs might earn extra token prizes.
Traders will obtain the RDTC for the majority of trading pairs (Rupaydex Trader Credit).
Other projects can provide their tokens as trading rewards for the trading pairs of their tokens. (This means that for some trading pairs, traders may receive up to two tokens as trading rewards.)
As a result, additional projects will be able to incentivize trading, and they will be more successful eager to promote their users to choose Rupaydex as a trading platform
Fee for trading
A 0.2 percent fee is charged for each trade. Liquidity suppliers receive 0.17 percent, while the Rupaydex Treasury receives 0.03 percent.
WHY SHOULD YOU CHOOSE US OVER THE COMPETITION?
Increasing liquidity and market depth by combining order books from multiple exchanges.
At any given time, obtaining the best possible pricing from a theoretically limitless number of markets.
Due to their image as high-end traders, brokers are granted access to the best fees on each exchange.
There are no separate deposit/withdrawal fees; trades have a single, unified charge.
Streamlined online management across several mediums (web, mobile) with a single account
provides extensive and advanced analytics, as well as transparent accounting and reporting, as needed.
tracking of trade
Provides comprehensive and advanced analytics as requested.
About RupayDex
RupayDex is the first full aggregation protocol for crypto trading, allowing for cross-chain swaps and liquidity sourced from a mix of Defi and CeFi. Our machine learning and AI routing technology discover the best prices available from DEXes and (some) CEXes, resulting in better prices, less slippage, and faster settlement for traders.
RupayDex will run an exclusive Defi AMM aggregator system governed by RPX Tokens, the RupayDex Platform's native token. Our token holders can lend, stake, and profit from their investments. Token holders on RupayDex receive substantial reductions on trading fees.
Join the Pre-sale now: https://presale.rupaydex.io/
Join the Airdrop: Rupaydex (For All)
Reward: ₹100~BTC (~$1.3)
End Date: May 31, 2022
Airdrop Link: Airdrop Page (https://sweepwidget.com/view/54140-03dq2f76/ul4x72-54140)
Complete the airdrop tasks.
Submit your BSC wallet address.
Every valid participant can win.
Some lucky winners will stand a chance to win 1 Full BTC. Let's Go!
Disclaimer: Airdrop is 100% free. Don't send any fee for receiving airdrop tokens.
Community & Social Media:
Telegram: https://t.me/rupaydex
Twitter: https://twitter.com/rupaydex 
Faceboo: https://www.facebook.com/rupaydex 
Linkedin: https://www.reddit.com/user/rupaydex 
Instagram: https://www.instagram.com/rupaydex/ 
Reddit: https://www.reddit.com/user/rupaydex 
Media Contacts
Company Name: Rupaydex
Official Email: [email protected]
The post India's First Truly Decentralized Exchange RupayDex set to launch, enables trading in Rupees appeared first on Zex PR Wire.