INTERNET CITY, DUBAI, Feb. 28, 2022, ZEXPRWIRE, LBank Exchange, a global digital asset trading platform, will list Saitanobi (SAITANOBI) on February 28, 2022. For all users of LBank Exchange, the SAITANOBI/USDT trading pair will be officially available for trading at 21:00 (UTC+8) on February 28, 2022.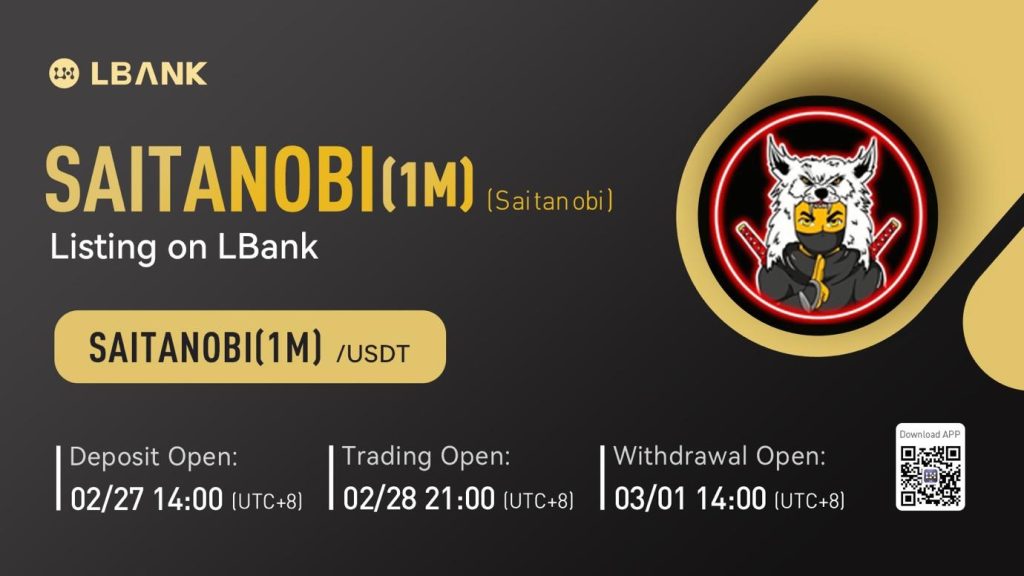 The WOLFPACK and SHINJACLANS are two of the most incredible communities in the crypto space. To maximize investors' gains, Saitanobi (SAITANOBI) is merging these two communities in one token, and releasing staking and farming for its holders, so that they can earn SAITAMA and SHINJA as rewards, therefore helping all three communities. SAITANOBI token will be listed on LBank Exchange at 21:00 (UTC+8) on February 28, 2022, to further expand its global reach and help it achieve its vision.
Introducing Saitanobi
Saitanobi is a project that aims to merge two incredible crypto communities – WOLFPACK and SHINJACLANS. It focuses on bringing investors of both projects together and maximizing their gains. 
Using its treasury funds to buy SAITAMA and SHINJA, Saitanobi distributes these tokens to its holders as reward. With this mechanism, Saitanobi will let its holders gain more SAITAMA and SHINJA tokens as well as helping them grow.
Additionally, staking is also provided by Saitanobi as a popular source of passive income. Saitanobi holders who choose to stake in "The Staking Den" will earn SAITAMA or SHINJA as rewards for staking. The APY will vary depending on the amount of Saitanobi tokens staked. The token buy/sell tax will not be triggered during staking however a small gas fee will be incurred.
With more CEX listings planned in its road map, Saitanobi will continue to grow its global community and attract more holders, as well as helping WOLFPACK and SHINJACLANS communities grow together.
About SAITANOBI Token
SAITANOBI has a total supply of 69 sextillion (i.e. 69,000,000,000,000,000,000,000) tokens. It taxes a total of 13% on each transaction, 5% of it is provided for treasury, 3% will be used for marketing, 2% is provided for auto liquidity, another 2% is provided for development, and the rest 1% is provided for reflections. 
SAITANOBI will be listed on LBank Exchange at 21:00 (UTC+8) on February 28, 2022. Due to setting issues, the amount of SAITANOBI assets shown in the LBank Exchange user's wallet is 1/1000000 of the actual amount. And the value of user's assets remains unchanged. So, for example, if a user deposit 1,000,000 SAITANOBI tokens, the number shown in the wallet will be 1 SAITANOBI (1M).
When a user applies a withdrawal, the actual amount the user withdraws to the account is 1,000,000 times the withdrawal amount. For example, if a user applies a withdrawal of 1 SAITANOBI (1M) token at LBank Exchange, the user will receive 1,000,000 SAITANOBI tokens. 
Investors who are interested in Saitanobi investment can easily buy and sell SAITANOBI on LBank Exchange once it's listed. The listing of SAITANOBI on LBank Exchange will undoubtedly help it further expand its business and draw more attention in the market.
Learn More about SAITANOBI Token:
Official Website: https://saitanobi.com
Telegram: https://t.me/saitanobi
Twitter: https://twitter.com/saitanobi
Listing Announcement on LBank Exchange: https://support.lbank.site/hc/en-gb/articles/4497508602777-SAITANOBI-Saitanobi-will-be-listed-on-LBank
About LBank Exchange
LBank Exchange, founded in 2015, is an innovative global trading platform for various crypto assets. LBank Exchange provides its users with safe crypto trading, specialized financial derivatives, and professional asset management services. It has become one of the most popular and trusted crypto trading platforms with over 6.4 million users from now more than 210 regions around the world.
Start Trading Now: lbank.info
Community & Social Media:
l   Telegram
l   Twitter
l   Facebook
l   Linkedin
Contact Details:
LBK Blockchain Co. Limited
LBank Exchange
PR Contact:
The post LBank Exchange Will List Saitanobi (SAITANOBI) on February 28, 2022 appeared first on Zex PR Wire.