INTERNET CITY, DUBAI, Mar. 11, 2022, ZEXPRWIRE, LBank Exchange, a global digital asset trading platform, will list Ziktalk (ZIK) on March 14, 2022. For all users of LBank Exchange, the ZIK/USDT trading pair will be officially available for trading at 17:00 (UTC+8) on March 14, 2022.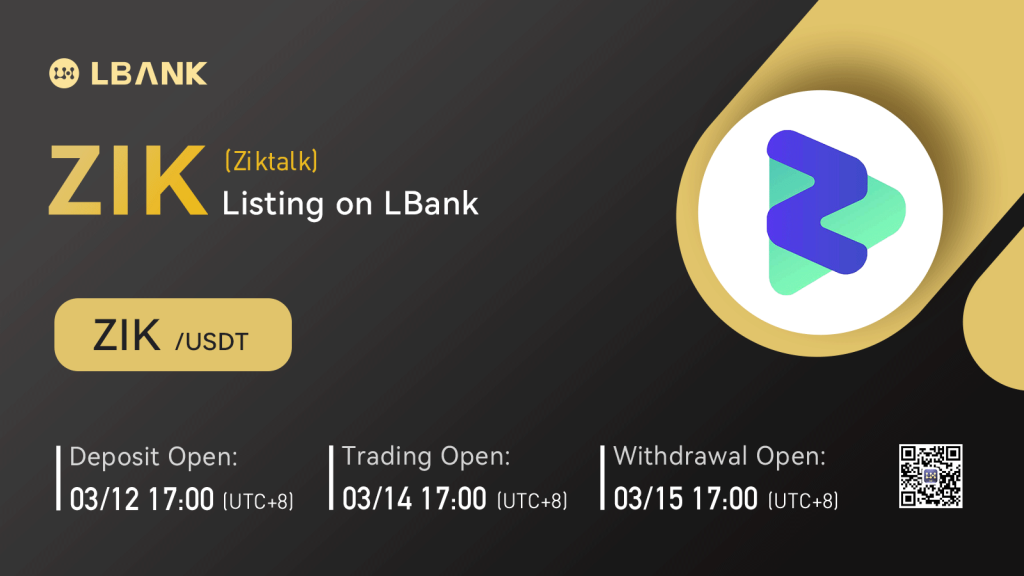 The number of social media users has been growing rapidly in recent years, while platforms that allow users to share stories and provide entertaining content keep on emerging. However, these platforms often do not enable instant and direct user-to-user compensation. To change this situation, Ziktalk (ZIK) was created as a Web3.0 short video platform that enables users to directly reward each other for their content, and incentivizes active network participation while ensuring that users are properly compensated for their value contribution. Its native token ZIK will be listed on LBank Exchange at 17:00 (UTC+8) on March 14, 2022, to further expand its global reach and help it achieve its vision.
Introducing Ziktalk
Ziktalk is a Web 3.0 short video platform with over 650,000 users, it allows content creators and consumers to earn ZIK tokens for interactions within the app through the concept of "social mining", which rewards users for contributions that benefit the growth of the ecosystem, therefore providing monetization opportunities to 98% of the content creators earning below the poverty line and users in developing nations.
Short and vertical videos are perfect for mobile device content consumption. In Ziktalk, from genesis videos to replies, all user interactions are made with short videos. Ziktalk has eliminated the use of texts completely to be a platform where creative content creation is encouraged and rewarded, focusing only on the most promising video format.
With Ziktalk, creators can share short videos with the world, and the more engagement they get, the more they will earn. Not only creators, users who just like to watch other people's videos can also be rewarded. For every like, comment, and follow users get, they receive ZIK tokens, which can be converted to cash.
Ziktalk introduces a new way of earning ZIK tokens through a concept called "social mining", which refers to the practice of earning ZIK through social activities on Ziktalk, including sign-up mining, referral mining, activity mining and community mining. With half of ZIK's token supply allocated to the social mining pool, users will have the opportunity to earn ZIK tokens by simply using the Ziktalk application. Additionally, Ziktalk also provides wallet service that can be used to hold, send, and receive users' ZIK rewards.
Realizing there is enormous opportunity in reaching underdeveloped regions with large population such as Indonesia, Philippines, India, etc., Ziktalk enables users form these regions to participate in social mining and earn a living with its low barrier of entry. With its products and services, Ziktalk aims to connect the world and to reward those who play a part in doing so.
About ZIK Token
ZIK is the native currency of the Ziktalk economy. Whenever value is exchanged, ZIK will be transferred form one user to another. Other than exchange, users can obtain ZIK tokens through Ziktalk's social mining. 
Based on ERC-20, ZIK has a total supply of 10 billion (i.e. 10,000,000,000) tokens. 50% of it is allocated to social mining pool (30% for activity pool, 15% for sign-up pool, and 5% for referral pool), 30% is provided for token sale, 10% is allocated to the team, 5% is allocated to the partners, 3% is provided for bounty, and the rest 2% is allocated to the advisors.
ZIK will be listed on LBank Exchange at 17:00 (UTC+8) on March 14, 2022, investors who are interested in Ziktalk investment can easily buy and sell ZIK on LBank Exchange by then. The listing of ZIK on LBank Exchange will undoubtedly help it further expand its business and draw more attention in the market.
Learn More about ZIK Token:
Official Website: https://www.ziktalk.com
Telegram: https://t.me/ziktoken
Twitter: https://twitter.com/ziktalkofficial
Instagram: https://www.instagram.com/ziktalk.official/
Facebook: https://www.facebook.com/ziktalk
About LBank Exchange
LBank Exchange, founded in 2015, is an innovative global trading platform for various crypto assets. LBank Exchange provides its users with safe crypto trading, specialized financial derivatives, and professional asset management services. It has become one of the most popular and trusted crypto trading platforms with over 6.4 million users from now more than 210 regions around the world.
Start Trading Now: lbank.info
Community & Social Media:
l   Telegram
l   Twitter
l   Facebook
l   Linkedin
Contact Details:
LBK Blockchain Co. Limited
LBank Exchange
PR Contact:
The post LBank Exchange Will List Ziktalk (ZIK) on March 14, 2022 appeared first on Zex PR Wire.