Malaysia, 11th July 2022, ZEXPRWIRE, The 37th global edition of World AI Show, supported by Malaysia Digital Economy Corporation (MDEC), will virtually bring forward the most prominent voices in the Malaysian AI space on 13th July 2022. Notable visionaries including Datuk Dr. Mohd Nor Azman Hassan, Dimitrios Kalogeropoulos, Gaurav Sharma and 30 other expert speakers will take the centre stage to discuss the need of a robust AI ecosystem to reshape the digital economy and reimagine a better Malaysia.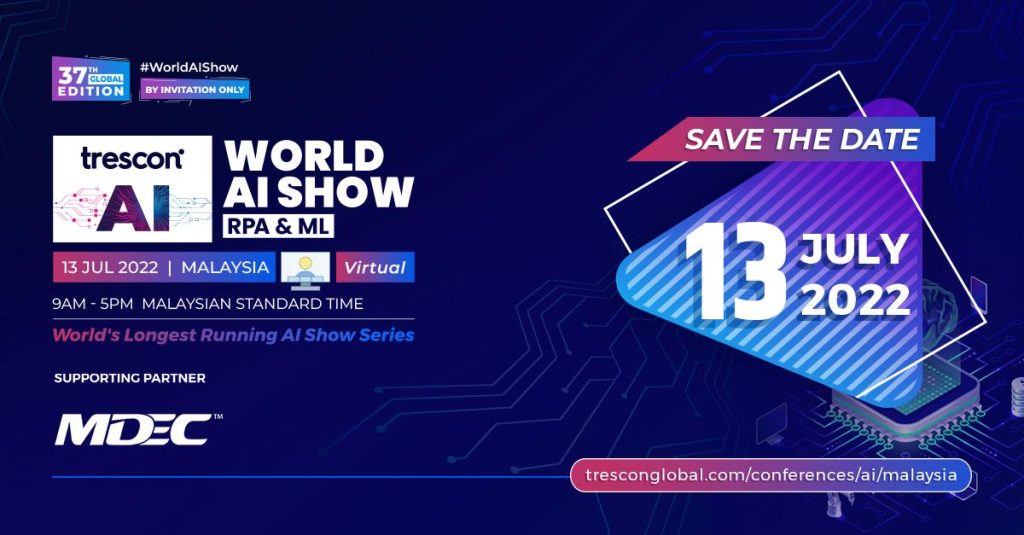 Monday, July 04, 2022: Now is the ideal time for Malaysia to surge ahead of the pack because the promise of AI is still far from being fully realised. The 37th global edition of World AI Show – Malaysia, supported by Malaysia Digital Economy Corporation (MDEC), is scheduled to take place virtually on July 13, 2022, with a special emphasis on the Malaysian market.
The show will feature eye-opening keynotes, use-case presentations, product exhibitions, panel discussions and tech talks to find solutions for issues and trends within the AI space.
Growth of AI in Malaysia
Around the world, AI is gradually being incorporated into a variety of businesses. Malaysia has made great advancements in the way the healthcare and fashion industries currently function. Unsurprisingly, this is a result of the Fourth Industrial Revolution's drive to challenge the status quo in the healthcare sector and perhaps even lower mortality rates in the long run. Anticipation for the next industrial revolution includes expectations for AI to significantly advance and permeate more industries. 
Dimitrios Kalogeropoulos, Digital Health and Innovation Expert, WHO, emphasizes that, "Digital health inclusion and equity will soon be inherited wicked problems. And while small interventions may continue benefiting some vulnerable groups for some time, a sustaining longer term innovation strategy mandates a new paradigm that unites stakeholders, drives directionality and impact and elevates a sense of policy purpose."
Jacky Cheong, Head of Enterprise Data Governance at Celcom Axiata who is also the winner of the Malaysian Technology Excellence Awards for Enterprise Data Governance, 2022 stated, "Without good Governance on Data, the advance technologies of AI/ML/RPA would not be working efficiently and effectively in delivering business values."
Jiunn Hao, the Director of APAC Partnerships at Dataiku stated, "Dataiku will show attendees how extraordinary AI for everyday purpose is brought to life in this edition of the World AI Show, Malaysia 2022. As a Lead sponsor, we await the opportunity to connect and discuss how to realise your AI strategy at scale and speed; no matter the stage of AI or analytics maturity. Meet us at our booth to find out more on how Data Science meets Everyday Use!"
The show will feature a groundbreaking collaboration of experts such as:
Ms. Sofia Paes – Data Policy Advisor, Ministry of Economic Affairs and Communications of Estonia, Estonia
Mr. Navin Sinnathamby – Head, AgTech, Sectorial Pilots & DroneTech, Ecosystem Development Division, Malaysia Digital Economy Corporation Sdn. Bhd (MDEC)
Mr. Teo Hong Sen – Solutions Engineer, Alteryx, Singapore
Ms. Judy Nam – Principal Solutions Engineer Director, Dataiku
Mr. Alexandre Hubert – RVP, Sales SEA, Dataiku
Mr. Pranay Roy – Solution Engineering Manager, TigerGraph APJ
Ms. Katrina Briedis – Sr. Product Marketing Manager, Denodo, Australia
Mr. Nilesh Timbadia – Chief Information Officer, The Port of Tanjung Pelepas (PTP), Malaysia
Mr. Badril Abu Bakar – Deputy Director, Malaysian Agricultural Research and Development Institute (MARDI)
Dr. Waqas Khalid Obeidy – Chief Innovation Officer, TheLorry, Malaysia
Dr. Sasa Arvoski – Program Director AI & Robotics, Associate Professor, Raffles University, Malaysia
Mr. Fawzi Bessaih – Head of Data Science, Airasia Singapore; to name a few.
The event will focus on topics such as:
Leveraging digital transformation through Malaysia's AI national strategy; 
AI & RPA: Accelerating the pace of digital transformation; 
The democratization of analytics; transforming business with Artificial Intelligence;
How data virtualization accelerates machine learning and AI projects;
Leveraging intelligent automation: the role of AI and automation in ITOps; 
Analyzing the growth of conversational AI in a post-Covid world and much more. 
"Innovation does not need to confine to what we're used to doing, and you don't necessarily need to always stick to one way to solve a problem. We need to move beyond the paradigm and bring in new ideas. The 37th global edition of World AI Show is designed to address these matters in question and pave the way to move ahead," stated Mithun Shetty, CEO, Trescon.
The show will be hosted on the virtual events platform Vmeets to help participants network and conduct business in an interactive and immersive virtual environment. Participants can also engage with the speakers during Q&A sessions and network with solution providers/sponsors at their virtual exhibition booths, private consultation rooms and meeting tables.
The 37th global edition of World AI Show – Malaysia is officially Malaysia Digital Economy Corporation (MDEC) , & officially sponsored by:
To get your complimentary passes, visit – World AI Show – Malaysia.
About World AI Show 
World AI Show is a thought-leadership-driven, business-focused, global series of events taking place in strategic locations across the world.
It fuses top AI experts, enterprises, government representatives, data scientists, technology leaders, startups, investors, researchers, academicians, and global AI innovators – to discuss the latest challenges for the sector arising out of the pandemic situation.
About Trescon
Trescon is a global business events and consulting firm that provide a wide range of business services to a diversified client base that includes corporations, governments, and individuals. Trescon is specialized in producing highly focused B2B events that connect businesses with opportunities through conferences, roadshows, expos, demand generation, investor connect, and consulting services.
For further details, please contact:
Zeba Rashid
PR, Media & Corporate Communications,
Trescon
+919555915156 | [email protected]
The post Leading tech experts to meet and promote AI in Malaysia appeared first on Zex PR Wire.