Kuala Lumpur, Malaysia, 7 Jan 2022, ZEXPRWIRE, League of Ancients (Fromvision PTE LTD), the blockchain-based MOBA game, is launching an 'Epic LOA Battle' eSports contest. The event will allow participants to battle against the LOA founding team in a game of Bo3 DoTA2 (Captains Mode). The Epic LOA Battle is not an individual contest. It consists of 5v5 gameplay on a given map, with the aim of defeating the enemy. Teams need to secure a slot to play against the founding team, though the final slot for Tiers 1, 2, and 3 will be airdropped to ticket holders.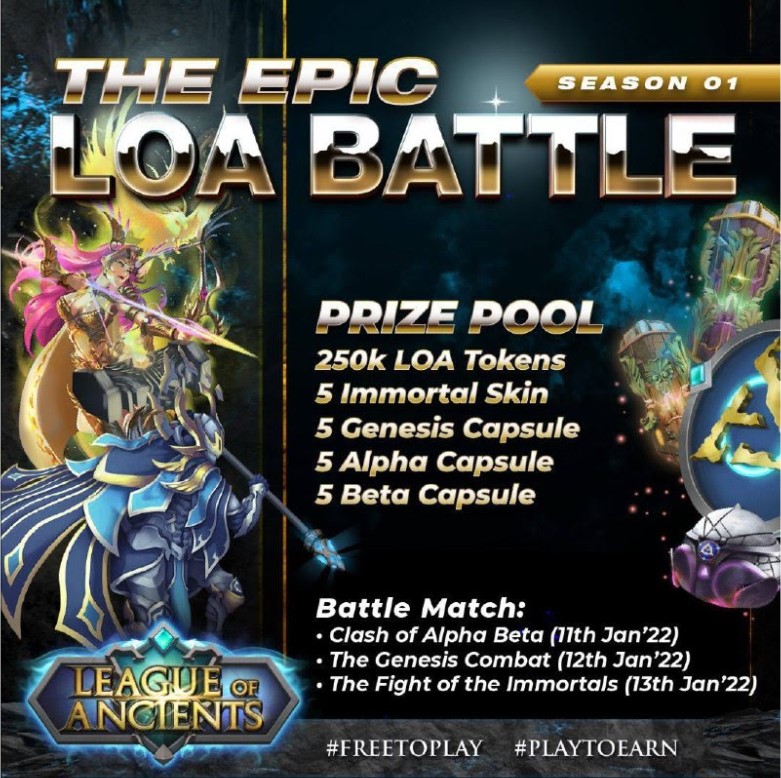 The staking period is seven days beginning January 4th while the contests themselves will take place on the 11th, 12th, and 13th January 2022. The price for taking part in the tournament is 100 $LOA, the cost of one ticket. The contest is open to the public and no whitelist is required for entry. Staked tokens are locked for a period of 30 days. There are significant rewards for winners in the tournament but players will need to understand (and follow) the rules.
Rewards will only accrue once the team wins a Bo3 match against the LOA founding team. All participants must have their Steam ID, Telegram ID, and Discord Tag filled up in the Google form with respective wallet addresses. Incorrect details will mean disqualification and that the next team on the leaderboard moves up. To participate, teams will need to have their Metamask wallet connected to the Binance Smart Chain and with $LOA tokens within the wallet.
The NFT rewards for winners are non-trivial. Each capsule reward contains an NFT skin that can be traded in an upcoming LOA marketplace. According to the LOA whitepaper, the Genesis skin is only available at pre-launch events and the Immortal skin is only available through a fusion process. This fusion process acts as a deflationary method of increasing the value of remaining skins and allows players to level up and get rid of older skins. This will become more important as the game develops.
Each NFT skin also has $LOA "mining power," which is another way to earn. Immortal and Genesis skins are extremely rare within the LOA gaming ecosystem and serious gamers will want to capitalize on the opportunity to earn them at such an early stage. The total prize pool for the contest is as follows:
5 Immortal Capsules.
5 Genesis Capsules.
5 Alpha Capsules.
5 Beta Capsules.
250,000 $LOA tokens.
The rewards are divided into three tiers. All require securing a slot to play a Bo3 DoTA match against the LOA founding team. The tiers for the battle will commence on different days:
Tier 3 Reward Bo3 Games: 11th January 2022; 11:00 am UTC
Tier 2 Reward Bo3 Games: 12th January 2022; 11:00 am UTC
Tier 1 Reward Bo3 Games: 13th January 2022; 11:00 am UTC
The reward tiers will depend on where teams rank on the leaderboard. The reward tiers are as follows:
1 to 4 on Leaderboard: Tier 1 Reward: 1 x Immortal Skin & 25,000 $LOA tokens per player.
5 to 8 on Leaderboard: Tier 2 Reward: 1 x Genesis Capsule & 10,000 $LOA tokens per player.
9 to 12 on Leaderboard: Tier 3 Reward: 1 x Alpha Capsule, 1 x Beta Capsule & 5,000 $LOA tokens per player.
In addition to the contest, 1,000 participants will benefit from 50 $LOA tokens each in a random giveaway. Token prizes can be claimed within 3 days from the dashboard. NFT prizes can only be claimed when the NFT marketplace goes live in Q1 2022. When the NFT marketplace goes live, winners have seven days to claim their prizes.
Aside from rewards, participants will have fun playing an engaging MOBA tournament and can test their skills against the founding members. The MOBA genre has proven to be very enticing to gamers and the elements of strategy, teamwork, and attention-to-detail will be critical to success in the Epic LOA Battle.
About League of Ancients
League of Ancients is the World's first free-to-play and play-to-earn NFT MOBA platform available on the Binance Smart Chain. Inspired by DoTA2 and League of Legends, gamers can select their Hero and enjoy 5v5 strategic combat on a MOBA platform that features yield farming, NFT skin ownership, and a trading marketplace. The more you play, the more you earn.
Contact League of Ancients
The post League of Ancients Launches 'Epic LOA Battle' eSports Contest appeared first on Zex PR Wire.