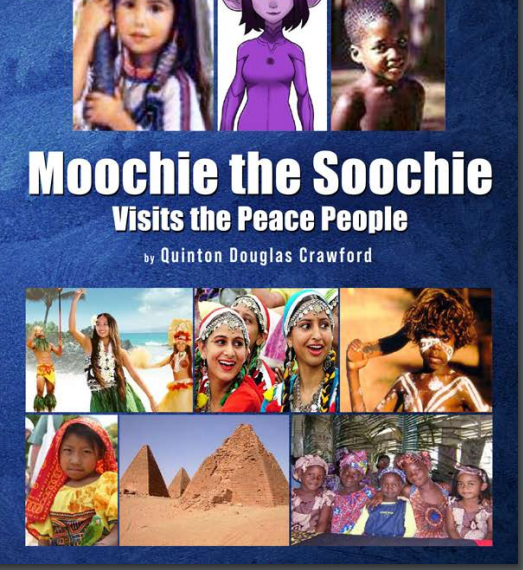 California, USA, January 17, 2021, ZEXPRWIRE, Quinton Douglas Crawford promotes global understanding in children's historical fiction book
The author extends his global experience, love for volunteerism, and vocation as a teacher to his readers through his book. 
For educator and organization leader Quinton Douglas Crawford, writing books is not just a medium to maximize his BA degree but an opportunity to teach others anywhere, anytime. Having grown up in various countries and around different cultures, he advocates internationalism. The author stays true to his purpose with his children's book Moochie The Soochie Visits The Peace People (ReadersMagnet; 2021). 
Moochie The Soochie Visits The Peace People tells the journey of Moochie who travels through human history to find people in times of peace and visits children on every continent to learn a little of their languages. The book teaches kids greetings in over nine languages from around the world. The book features the contributions of Mr. Kye Wayne Shi of China and Asad Farook of Sri Lanka. 
Order Quinton Douglas Crawford's Moochie The Soochie Visits The Peace People soon on Amazon, Barnes & Nobles and ReadersMagnet. 
Book Trailer:   Watch Here on Youtube
 Quote | Learn greetings in nine different languages. 
Moochie The Soochie Visits The Peace People
Author | Mr. Quinton Douglas Crawford
Published date | January 28, 2021
Publisher | ReadersMagnet
Book retail price | Hardback: $20.57 Paperback: $5.37 and Kindle: $2.99 
hardback ISBN 978-1-954371-26-2 
paperback ISBN 978-1-953616-88-3
Author Bio
Quinton Douglas Crawford is a happy educator. He was born in Southern California but now lives in Northern California. He had taught in two private schools in Sefwi-Wiawso, Ghana for the International Foundation for Education and Self-Help (IFESH); two schools in Shenzhen, China; and proudly throughout the public schools in the Fairfield-Suisun Unified School District (FSUSD), Fairfield, CA. He received three associate degrees from Solano Community College and a bachelor's degree in Social Science from Chapman University, Primary Research Methodology Certification from Prof. Manu Ampim, and is currently pursuing a Masters of Education from  Concordia University. 
Indirect Musician Videos that Contributed to the creation of this book
Thank You! 
, Damian Marley (Speak Life), Nas (I Can),  Chezidiek (All My Life), Stephan Marley (Rock Stone), Erykah Badu (Love of my Life), E-40 (Choices), Mariah Carey (Always be my Baby),  Proteje  & Chronixx (Who Knows), Ziggy Marley (Tomorrow People), Janet Jackson (Runaway),  KRS-One Step into the World) , Erik B and Rakim (Move The Crowd),  Intelligent Hoodlum (Posse),  X-Clan (Fire & Earth), Dr. Dre (California Love),  Missy Eliot (The Rain), Brandy (I Wanna Be Down)    , Heltah Skeltah (Operation Lockdown), Outkast  (In Due Time), Goodie Mob  (Cell Therapy), Gangstarr (Who's Gonna Take The Weight), Soul II Soul(Keep on Movin), Les Nubians (Les Portes du Souvernir),  Geto Boys (The World is a Ghetto),
Quinton Douglas Crawford is also the author of The Global Situation and Knowledge for Tomorrow: A Summarized Commentary of World History, Nature, Health, Religion, Organized Crime, and Inspiration for the Youth. Now writing his autobiography.
The post Moochie‌ ‌The‌ ‌Soochie‌ ‌Visits‌ ‌The‌ ‌Peace‌ ‌People‌ appeared first on Zex PR Wire.