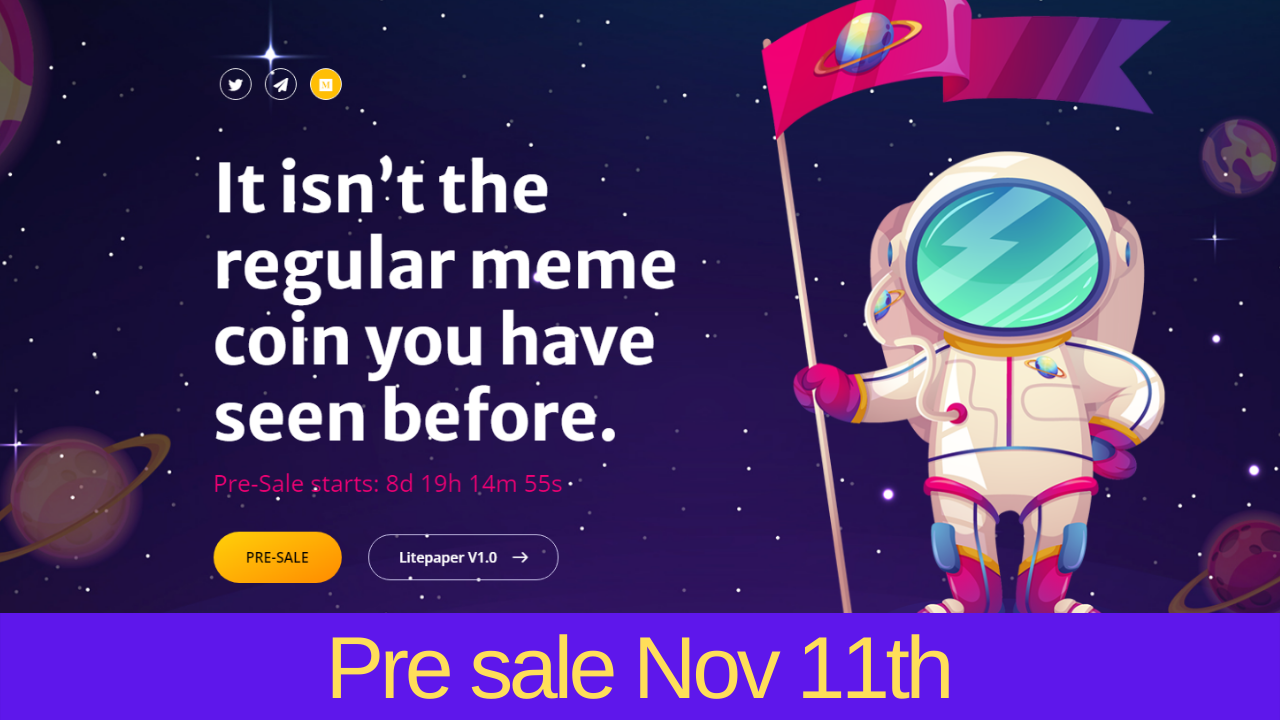 Vilnius, Lithuania, 3rd Nov 2021, ZEXPRWIRE, Did Jack said "Moonkids becoming main competitor for Shiba Inu. For those who missed Shiba Inu run this is good opportunity to be early bird and don't lose again.". Alongside moonkids announcement across social media this week, MoonKids team shares details on the MKIDS token public sale, which is launching Nov 11th.
What is the MoonKids Token ($MKIDS)?
MoonKids ( $MKIDS), is a token that runs on the BEP-20 network of the Binance Smart Chain. It can be swapped using an BSC compatible wallet such as Metamask, by connecting to MoonKidsSwap, which is a Decentralized Exchange, or DEX. MKIDS is part of this DEX as one of its native tokens.
Collective decentralization, meant no central leadership, where the community is invited to participate, founders and developers alike work on a voluntary basis. The goal is set for future self governance, built by the community for the community.
What does MoonKids have to offer?
A 10% tax is applied on all transactions. 6% is redistributed among holders, the remaining 4% is used to borrow ETH on Venus to dump it for BNB at a low risk ratio.
While you trade it you contribute pumping your BNB bags as they keep dumping Ethereums for it. The more people buys or sells $MKIDS, the more ETHs are dumped.
On top of the regular reflective mechanism that auto generate APY for holders, the generous Venus APY rewards for lending and borrowing assets will be re-injected into the token, bringing back value and money to the project as well (rather than reinjecting the BNB to build a stronger price floor and making the price harder to move up on the long run).
MoonKids (MKIDS) presale details?
MoonKids is making the MKIDS Token (MKIDS) accessible to anyone by holding an exclusive presale through bounce.finance from Nov 11 12:00 UTC to Nov 18 12:00 UTC.
After presale is completed, MKIDS/BNB pair will be listed immediately on Top exchanges, liquidity locked forever and trading enabled to guarantee the fairest possible launch.
Also, during presale, upcoming MoonKids NFT will be airdroped to eligible participants. Airdrop receives all wallets holding at least 1BNB worth of MKIDS tokens.
$MKIDS Contract: https://bscscan.com/address/0xdf6cabf68b8c6a9ce0bd5bf98ae222c40f411532
Media Contacts
Company Name: MoonKids
Website: https://moonkids.finance
Twitter: https://twitter.com/MoonKidsOfficia
Telegram: https://t.me/moonKidsOfficial
Email: [email protected]
The post Moonkids.finance – on Track Becoming Main Competitor for Shiba Inu as It Nears the Start of Its Public Sale! appeared first on Zex PR Wire.