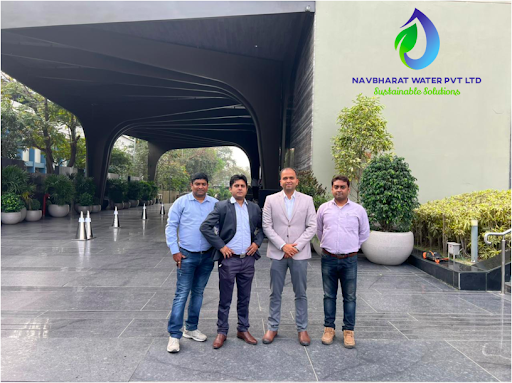 Mumbai, India, 16th August 2022, ZEXPRWIRE, Navbharat Water has been one of the fastest growing companies in the water treatment segment. Established in January 2020, the firm is successfully offering its solutions to a varied clientele that includes industrial segments, hospitality, healthcare, retail segments, commercial buildings, IT parks, malls, warehouses, and large-scale infrastructure amongst others. 
Backed by skilled staff and strong technical support, Navbharat Water offers Avant-grade customized wastewater management and treatment solutions. With state-of-the-art facilities, the firm provides comprehensive services to its clients. From treatment processes to recycling and reuse, it offers complete industrial, commercial, and domestic wastewater management solutions.
Navbharat Water Co-Founder & CEO Shibashish Das has been leading the business from the front. He states, "We have an experienced and enthusiastic team. Our customers love the fact that our project implementation time is one of the fastest in the country. We are able to take complex projects and deliver them with perfection."
India's wastewater treatment plants market stood at USD 2.4 billion in 2019 and is projected to reach USD 4.3 billion by 2025 owing to increasing demand for municipal water as well as sewage water treatment plants across the country, according to Amitabh Kant, CEO, NITI Aayog. He further states, "Climate change along with rapid population and economic growth is resulting in an increased demand for water and food, potentially leading to over stressing not only for our present resources but also jeopardizing the resources for future generations. Therefore, a move towards a circular economy is critical for ensuring the economic and social stability of not only four economy but for the world economy as a whole. Shibashish explains, "The market for water treatment is huge, and more importantly, it is the need of the hour. Navbharat Group diversified into water treatment to contribute towards conservation of the environment. There is a desperate need to reuse and recycle. Water is the most critical resource for survival, and recycling it is the only way forward." 
Shibashish continues, "While the market is slated to grow at 8% CAGR, we are currently growing at 500% per annum. Consequently, we are on track to hit our target of 100cr in the next 3 years. We offer turn-key projects, upgradation of existing plants, and AMCs for operations and maintenance. This ensures that anyone using water is our potential customer. The use case for water recycling is endless. The global wastewater treatment market was valued at USD 250.38 Billion in 2021 and is forecasted to reach USD 462.49 Billion by the year 2030.India, despite its high population, is only 1% of the world water treatment industry. This also means that we have a long runway and the potential is endless."
While managing fast growth can be daunting for some, Shibashish is gung-ho. He mentions, "We crossed 100 employees last month. We have expanded to all metros and some tier1 cities in India. We are currently at 12 locations across the country. And we are just getting started. While being a startup has its challenges, being part of the Navbharat Group offers a lot of support. The stability accorded by being part of Navbharat ensures that we can grow as much as we want to."
Navbharat Group has been in business since 1984 and has companies in logistics, Import-Export, Elevators, Gifting, Amazon Vouchers, Manufacturing of Spectacle lenses, Water treatment etc. 
Prashant Dwivedi, Managing Director of Navbharat group says, "We set up Navbharat Water that's into the business of water treatment with a view to doing our bit for the environment. We have the technology to set up STPs and ETPs that cover the entire gamut from basic water treatment to ZLD (Zero Liquid Discharge)".
An IIM alumnus, Lawyer, and Environmentalist, Prashant Dwivedi Co-founded Navbharat Water intending to protect the most valuable resource on the earth – water. "It is possibly the most important resource for humanity and we need to conserve it. Unfortunately, most of us, including the educated class, do not understand the gravity of the problem. A 2019 NITI Aayog report said that India is suffering from the worst water crisis in its history, and almost 600 million of its population is water-deprived. The report goes on to add that 21 cities — including Bangalore, Delhi, Hyderabad and Chennai — probably exhausted their groundwater resources in 2021. We need to understand- Water is a Resource and not a Commodity!"
Reminiscing about the way Navbharat water came about, Shibashish states, "When I met the Navbharat management, brothers Prashant and Praful Dwivedi, it was an instant match. I wasn't sure about entrepreneurship, but as we discussed further, I was offered a chance to be an intrapreneur– which is more like assisted entrepreneurship. I took up the offer right away." 
He continues, "Navbharat Group invests in industries that are profitable, scalable, and sustainable. The founder plays the most important role, so he/she must be extremely passionate and motivated to scale the business. The founder's energy coupled with the groups experience makes it fairly easy to scale up in a sustainable fashion."
Media Contacts
Name – Prashant Dwivedi
E-mail – [email protected]
Phone no – +91-9920055327
Company – Navbharat Water Pvt. Ltd.
Country – India
Address – 6C2 Gundecha Onclave, Khairani Road, Sakinaka, Andheri East, Mumbai 400063
The Post Navbharat Water brings disruptive innovation to a legacy industry appeared first on Zex PR Wire