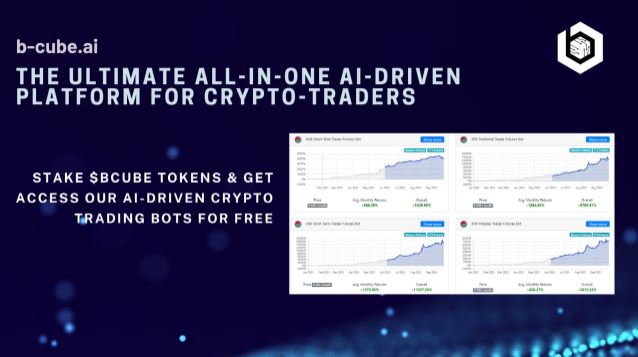 Bourg-la-Reine, France, 30 Sep 2021, ZEXPRWIRE, b-cube.ai announces the ultimate all-in-one AI-driven platform for crypto traders
Introduction
B-cube.ai is a marketplace of crypto trading bots which allows traders to connect to their favorite exchanges and start trading on auto-pilot without any skills or experience. It's a premium quality crypto trading bots driven by AI, Quantitative Finance & Mathematical models.
Problem
More than 95% of crypto traders lose money because markets trade 24/7, with high volatility which makes it difficult to make a decision to buy or sell. Many significant data such as blockchain metrics &s; sentiment analysis are hard to interpret by humans.
Solution
B-cube.ai bots make use of Technical Analysis, Sentiment Analysis and Complex Mathematical Models, following a scientific approach of Quantitative Finance.
B-cube.ai have received multiple awards for our cutting-edge innovations
Among the 17 most hottest startups in Hungary by Forbes Magazine 2021 in the April edition
Winner of EU Funded – Block.IS Accelerator Program 2020
First prize Startuplive 2019
Lauréate Graines de Boss 2020
First prize Blockstart 2019
 How it works?
Easy to use – Select, connect & trade. B-cube.ai bots can start working in as little as 5 minutes.
Zero experience needed – No problem even for beginners. B-cube.ai automated bots will buy & sell with no interference from the human side.
24/7 monitoring – Users can let bots monitor the market for them and seize opportunities 24/7
Non-custodial – B-cube.ai do not hold custody of users' funds. Users' funds will remain in their own account on the crypto exchange.
Transparency – Users can view the history of all the trades with the timestamps after signing up for a free account.
Self-adapting strategies – B-cube.ai AI/ML models dynamically adapt to constantly changing market conditions, delivering trades with high win-rate.
Tokens can be staked for free bots. $1000 worth of tokens grant access to Tier 1 which is enough for 1 bot. It is defined in BCUBE tokens which stands at 3500 BCUBE tokens as of today.
Find out the latest news from B-cube.ai social networks:
The post Presenting B-cube.ai – Cutting-edge AI Crypto Trading Bots appeared first on Zex PR Wire.