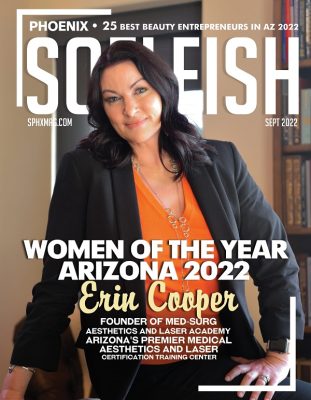 Phoenix, Arizona — Soeleish Phoenix Magazine Announces "Erin Cooper" as September 2022 Cover Feature Entrepreneur. Soeleish Phoenix Magazine is a one-of-a-kind magazine. SPM is the first magazine dedicated to small business owners and entrepreneurs in Arizona. Its purpose is to recognize the efforts and successes of Arizona's small business owners and entrepreneurs. SPM is a monthly magazine covering business, lifestyle, information, and technology. Soeleish Phoenix Magazine is Arizona's #1 magazine for small business owners.
Erin Cooper, LME, CLT is a medical aesthetician, laser technician, and clinical trainer. Erin is also the founder and CEO of Med-Surg Aesthetics and Laser Academy. Med-Surg Aesthetics and Laser Academy is an intensive hybrid (online/in-person) educational program for licensed aestheticians who wish to obtain laser certification and learn specialized skills specific to medical and surgical environments. With the constant introduction of new technologies, devices, and protocols, a basic aesthetics education is no longer adequate for work in most medical environments. Utilizing her 26 years of education and experience as a spa aesthetician, oncology aesthetician, medical aesthetician, clinical trainer, and laser technician, she's bridging the educational gap by providing the most innovative and current treatment information available so that talented, qualified professionals can enjoy a rewarding career in medical aesthetics.
Med-Surg Aesthetics and Laser Academy
5410 N. Scottsdale Rd.
Suite E-300 LED
Paradise Valley, AZ 85253
www.medsurgacademy.com
[email protected]
480-785-0085
Facebook:
@medsurgacademy
Instagram:
@medsurgacademy
Cover Photography Credit:
@pixbybecca
@becca3300
Individuals who are interested in purchasing a hard copy of the September 2022 Issue of SOELEISH PHOENIX MAGAZINE can do so at SPHXMAG.COM.
Media Contact
Company Name: Soeleish LLC
Contact Person: Rebecca L. Bennett
Email: [email protected]
Phone: 602-529-3477
Website: https://sphxmag.com