Salt Lake City, Utah, September 8, 2022 — Soeleish Salt Lake City Magazine Announces "Michelle Norvell" as September 2022 Cover Feature Entrepreneur. Soeleish Salt Lake City Magazine is a one-of-a-kind magazine. SSLCM is the first magazine dedicated to small business owners and entrepreneurs in Utah. Its purpose is to recognize the efforts and successes of Utah's small business owners and entrepreneurs. SSLCM is a monthly magazine covering business, lifestyle, information, and technology. Soeleish Salt Lake City Magazine is Utah's #1 magazine for small business owners.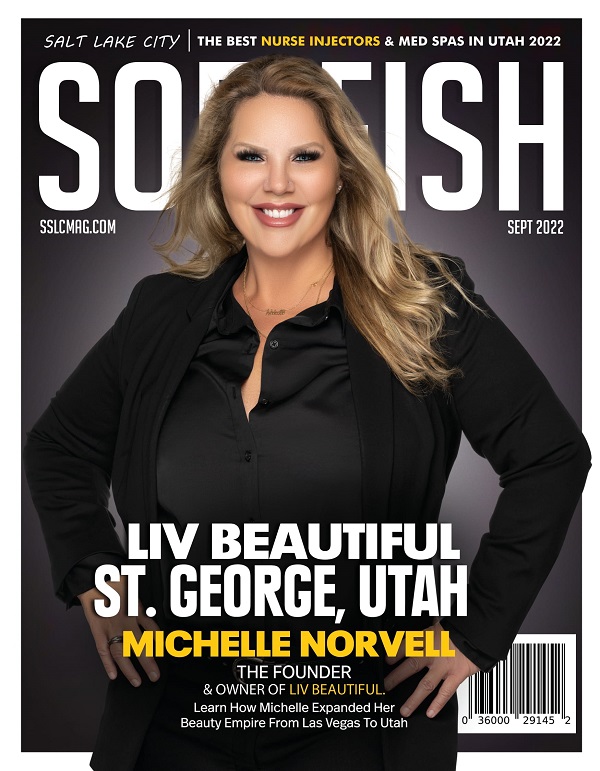 Michelle Norvell, FNP-C is the founder and owner of LIV Beautiful. Michelle is a family nurse practitioner who began her career in emergency medicine and later found love in aesthetics. She is a master injector and believes you have to live the life you're supposed to and never settle for the one you think you have to! Michelle prides herself on creating an environment that is welcoming for both women and men, where she can focus on natural aesthetics that both enhance beauty and confidence. With two locations to serve you.
LÍV Beautiful
www.liv-beautiful.com
[email protected]
515 South 300 East #104
(Dixie Medical Arts Bldg)
St. George, Utah 84770
435-220-7032 (Text)
3200 Soaring Gulls Drive Suite 103
Las Vegas, Nevada 89129
702-201-1400
702-819-8751 (Text)
Instagram:
@livbeautifullv
Facebook:
Michelle Norvell Aesthetics
Cover Photography Credit:
Anneli Adolfsson Photography
https://anneliphoto.com
Instagram:
@anneliphoto
Instagram:
@amafotostudios
Individuals who are interested in purchasing a hard copy of the September 2022 Issue of SOELEISH SALT LAKE CITY MAGAZINE can do so at SSLCMAG.COM.
Media Contact
Company Name: Soeleish LLC
Contact Person: Rebecca L. Bennett
Email: [email protected]
Phone: 801-722-1041
State: Utah
Country: United States
Website: https://sslcmag.com