Singapore, 21 Feb 2022, ZEXPRWIRE, StellaSwap, the leading DEX on Moonbeam, has partnered with Biconomy, the leading multichain relayer network that aims to build a robust infrastructure to simplify the Web 3.0 experience. Within a month of launching in tandem with Moonbeam network, StellaSwap has managed to accrue the highest liquidity through various landmark partnerships and launching novel products that captured the appeal of many, such as their highly successful Avalanche initial liquidity offering (ILO) that garnered over $4.4 million of commitment within a span of just 24 hours.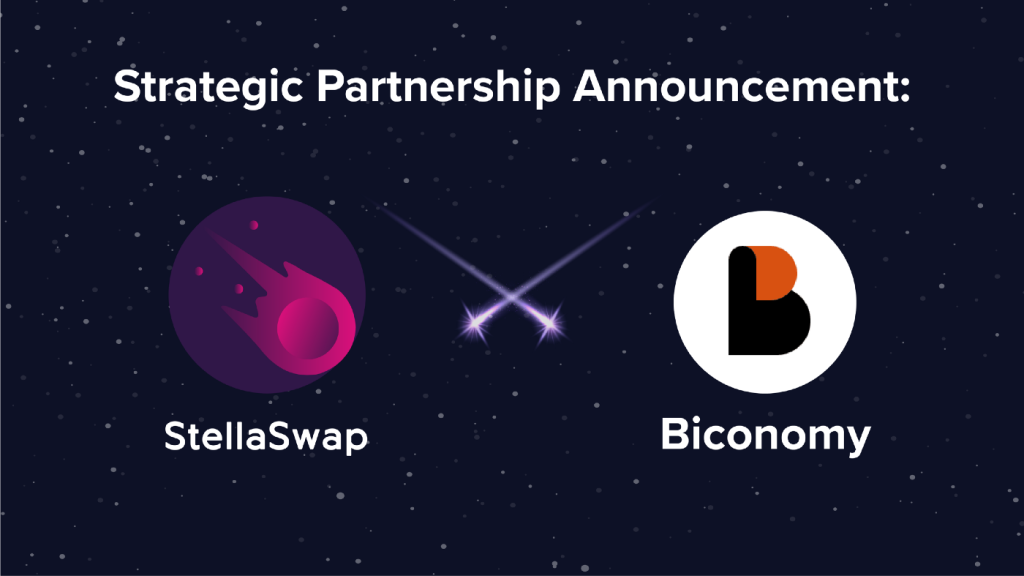 Setting its sight on further expanding their product suite, StellaSwap is on a mission to simplify DeFi access and streamline the user journey to cater to mass adoption. On that note, the partnership with Biconomy is testament to the dedication of both parties in building an inclusive DeFi environment for non-natives.
Biconomy's powerful plug-and-play APIs for a frictionless Web 3.0 is shaping to be the most trusted solution in the space, with over 15 million transactions processed, totalling over $1.2 billion in volume so far.
Gasless Transactions Coming to StellaSwap, First on Moonbeam

Biconomy's non-custodial and trustless infrastructure relies on the concept of meta transactions, where a user is able to make transactions on the blockchain with a zero balance account. Biconomy's focus in abstracting towards a user-friendly experience by removing many of these friction points is directly aligned with that of StellaSwap's vision.
"There needs to be more novel abstractions of complexity in the traditional DeFi user journey. StellaSwap has been at the forefront of this mission, and working with Biconomy in realising this vision through deconstructing the user lifecycle would streamline the entire DeFi process. The ultimate goal of StellaSwap, in conjunction with the bright minds of those in Biconomy, is to make DeFi as easy as possible." — StellaSwap Core Team

"The guys at StellaSwap are doing a great job building a seamless DeFi ecosystem. It offers all the powerful functionalities, but with incredible usability. Really pleased to help them in this regard with our Gasless solutions." — Ahmed Al-Balaghi, Cofounder & CEO at Biconomy.
What Can Users Expect?

The introduction of gasless transactions on StellaSwap would significantly enhance the overall user experience, especially new users on the nascent Moonbeam network. The first manifestation of gasless transactions on StellaSwap would be towards enabling gasless swaps for newly-bridged assets on Moonbeam. This will reduce the friction of requiring Moonbeam's native token, GLMR, for the first few transactions. Down the line, StellaSwap will closely work with Biconomy to further deploy gasless transaction across other vectors of the platform.
About StellaSwap

StellaSwap is the first and leading Moonbeam DEX that offers an integrated gateway to the DeFi world. Users can swap, earn, yield farm, bridge assets, explore new projects and engage in NFT trading all from a single unified platform. StellaSwap's products are structured in such a way that facilitates decentralized governance of STELLA holders, while continuing to innovate on the collective foundations by design.
Contact
Website: https://stellaswap.com/
Email: [email protected]
Twitter: https://twitter.com/StellaSwap
Reddit: https://www.reddit.com/user/stellaswap
Telegram: https://t.me/stellaswap
Blog: https://stellaswap.medium.com
docs: https://stella-swap.gitbook.io/stellaswap/
About Biconomy

Biconomy provides plug-n-play APIs to make web3.0 user-friendly & frictionless. They're on a mission to make the decentralized web accessible to everyone. Biconomy APIs & SDKs transform any DAapp to become usable for anyone regardless of their crypto knowledge and experience. Their multi-chain relayer infrastructure processes almost 50K daily transactions for 90+ DApps to ensure all the benefits of web3.0 come with the intuitiveness of web2.0.
Contact
Website: https://www.biconomy.io/
Twitter: https://twitter.com/biconomy
Telegram: https://t.me/biconomy
Github: https://github.com/bcnmy
Discord: https://discord.com/invite/biconomy
The post StellaSwap Partners with Biconomy for Gasless Transactions on Moonbeam Network appeared first on Zex PR Wire.