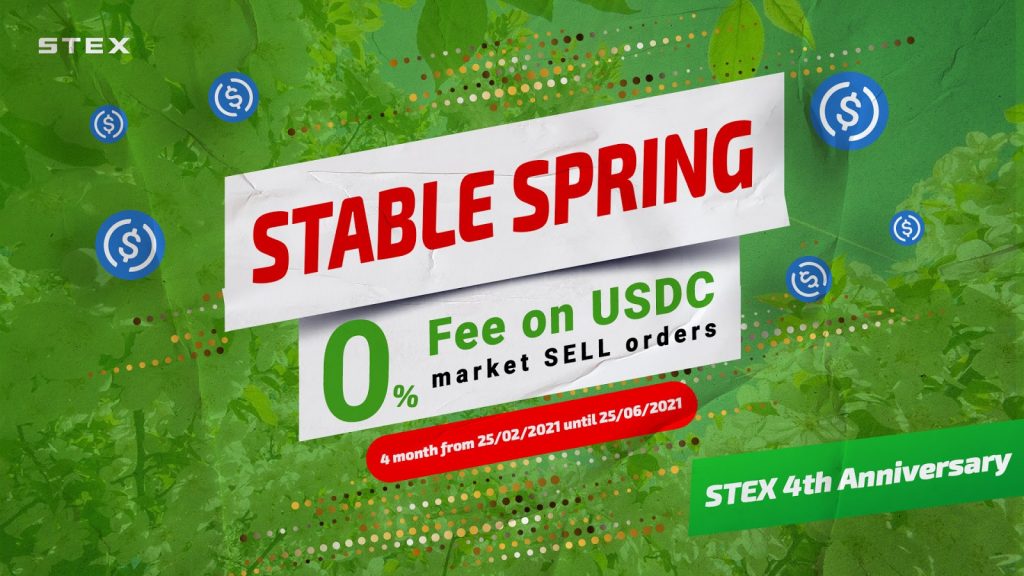 Estonia, 28th February 2021, ZEXPRWIRE – STEX, the spot trading platform and global cryptocurrency exchange is marking its 4th year in business with a special cryptocurrency discount on all USDC Market Sell orders.
Now through June 25, when a trader places a USDC Market Sell order for (BTC/USDC, ETH/USDC, LTC/USDC), they will not pay a trading fee.  The special discount coincides with the launch of STEX in Spring of 2018.
"We wanted to let our traders know how much we appreciate their support of the STEX platform," STEX Founder Vadym Kurylovych (VK) said. "Giving our users this discount to mark our 4th year in business shows our appreciation as well as gives them the opportunity to add stablecoins to their portfolios at a discounted price."
Recognizing that traders want to diversify their portfolios through the addition of stablecoins, STEX began offering USDC market pair trading this month. USDC wallets will work on two layers: ETH and Stellar, with a Solana layer to be added soon.  STEX users can make USDC deposits, trades and also buy USDC with cards through its exchange. 
Launched in September 2018, USDC is a stablecoin that is pegged to the US Dollar at a 1:1 basis. Each USDC coin is backed by $1 US that is held in reserve in a mix of cash and short-term treasury bonds. It is currently the number 12 token with a market capitalization of more than $8 Billion US.
"We're always working to add trading pairs to our exchange that provide our users with the options they want in the coin market," VK said.  "Keeping traders on the leading edge of the cryptocurrency market remains a top priority of us as we expand the offerings at STEX."
STEX is a licensed, regulated and centralized cryptocurrency spot trading platform based in Estonia and operated by Etna Development OÜ. Established with a strong belief in customer protection, transparency and responsibility of service, STEX has grown and scaled into a mature business with a wide network of partnerships. Following the path of pro-compliant market participant, STEX became an early presenter of tax reporting Smart Services integrations for its customers and prepared for GDPR, AML/CTF compliance ahead of time.
For more information, visit STEX.
About STEX 
Established in 2018, STEX is a powerful cryptocurrency exchange that makes it easy to buy, sell and invest digital currencies from one fast, and convenient platform at low competitive rates. Users can choose from more than 400+ trading pairs, purchase crypto with credit or bank cards, and exchange fiat to crypto or crypto to fiat with a few swipes on their mobile device. Founded in Estonia, STEX meets all EU regulations for cryptocurrency exchanges.
The post STEX Honors 4th Year in Business with Special Spring Discount appeared first on Zex PR Wire.