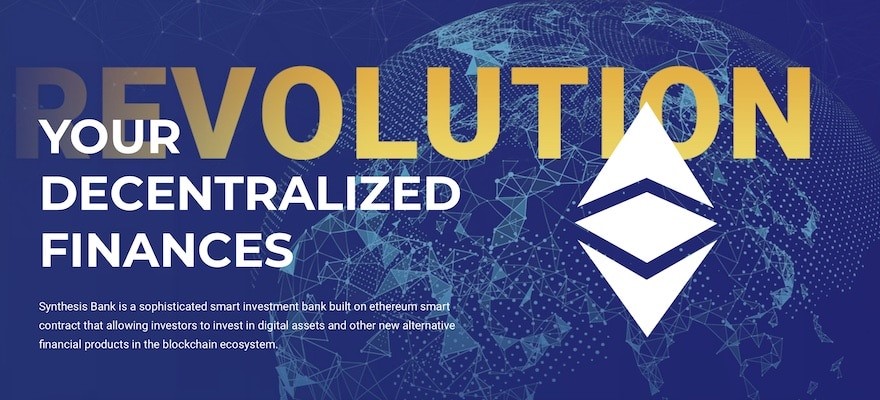 Russia, 1 July 2021, ZEXPRWIRE, This article is designed to familiarize you with the world's first tokenized bank of cryptocurrencies that makes them available to most people. It will also help you to understand the resource policy and the basic rules for receiving dividends in more detail.
Synthesis Bank is not a platform, but a fully functioning product, the world's first tokenized investment bank with cryptocurrency, built on the Ethereum smart contract, which offers innovative solutions to existing problems in the investment world.
Synthesis Bank aims to eliminate the installation and operation costs imposed by intermediaries in traditional funds, while increasing transparency and allowing you to benefit from the growth and adoption of cryptocurrencies in the market.
At the center of the bank is its own STB token, which is an ERC020 token representing a virtual stake in the bank. Token buyers will receive monthly dividends based on the results of the bank's investments during this period.
50% of the profit received by the bank as a result of investment activities will be returned to the token holder in the form of USDT.
Another 30% will be reinvested in the synthesis bank, which, in turn, expands the assets under management and increases the price of the token.
The remaining 20% will be used for the Bank's current operations, as well as for various administrative requirements, such as legal fees and accounting.
The fact is that usually the ownership of tokens brings income by increasing the value of their tokens. But in this case, there will be a monthly reward for the investment, and token holders will be notified through the Bank's portfolio tracking system of incoming dividends.
Thus, the perception of investment banking in our world as a sport of rich or successful brokers making multi-million dollar transactions, and inaccessible to most people in our society, is changing with the advent of blockchain and with firms such as Synthesis Bank, which bring the benefits of investment banking.
It is also important to note that the company conducted an audit of CertiK, a well-known blockchain security firm
The pre – sale of the token will take place from July 2021 to August 2021, followed by a public sale in October 2021. The total supply of tokens is 200 million STV, 150 million of which will be available for public sale.
Follow the news of Synthesis Bank on social networks such as Twitter, Telegram and Facebook, so as not to miss the start of sales and all the most interesting news of the resource
Site: www.synthesisbank.co
Telegram: https://t.me/synthesisbk
Twitter: https://mobile.twitter.com/synthesisbank
The post Synthesis Bank – unlock the potential of the crypto markets with a single token appeared first on Zex PR Wire.