Hongkong, 5 Jan 2022, ZEXPRWIRE, On December 26, the second stop of the WaykiChain World Cup Global Tour football charity initiative was held in Jayathilaka Sports Ground, Nawalapitiya, Sri Lanka. Four local Sri Lankan teams made a wonderful performance for the fans. Team Young Anuruddhiyns became the champion and won USD 200. Teams Young Meriyans and Young Stars were second and third, respectively.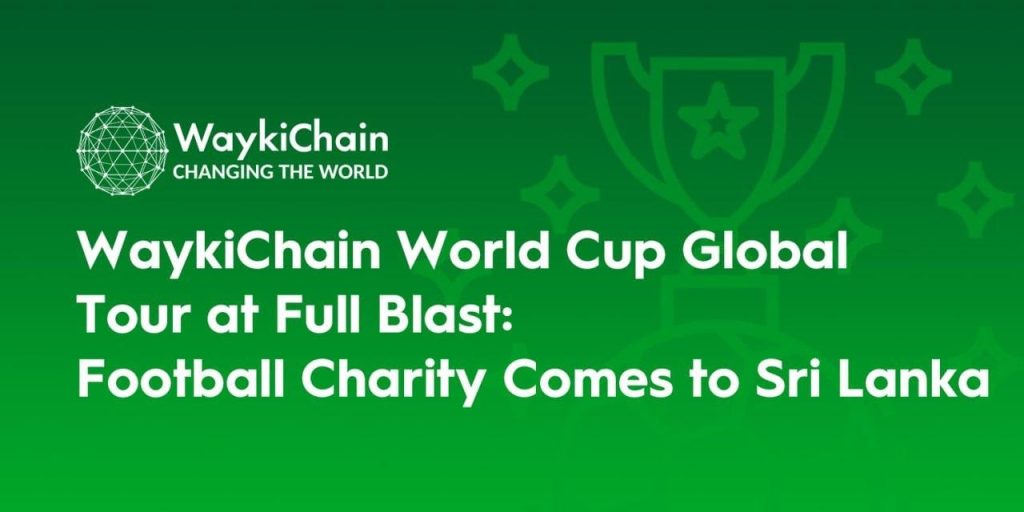 This is the second football charity event organised by the WaykiChain Charity Foundation. The first one was held earlier in December in New York, USA.
As the game organiser, WaykiChain Charity Foundation covered all the costs, including the venue, uniform, prizes, and gifts. All the proceedings from game tickets will be donated for football training of the local youth.
In the post-game interview, Team Young Anuruddhiyns captain Ishara expressed: "It is football that offers me the opportunity to work with those who need help the most. We are humbled to see the smooth organisation of such welfare activities. This is a special moment; and we hope it will help more football lovers around the world realise their dream. I thank God for everything I am given."
The value of the WaykiChain World Cup Global Charity Tour manifests not only on the playgrounds. More importantly, within the initiative, enormous efforts are put into drawing the society's attention to football to let more disadvantaged people in various regions of the world join this healthy sport and to make football a bridge that connects the public-welfare forces.
On the game day, WaykiChain Charity Foundation launched a new activity called Mail Your Worries and received letters from supporters and football fans from all over the world. They told WaykiChain about various hardships they face, provided valuable ideas, and expressed their expectations about future events of the Tour.
The WaykiChain World Cup Global Tour is in full swing. To add colour to the departing 2021, surprise games will happen in all continents. By helping football, WaykiChain Charity Foundation will continue to promote the concept of doing beautiful public welfare.
Media Contact –
WaykiChain Team
Twitter: https://twitter.com/wayki_chain
Telegram: https://t.me/WICCWordCupOfficial
Website: https://www.waykichain.com/
Email: [email protected]
The post The Great Comeback: Waykichain bounded up with 2022 WorldCup – Second Stop Sri Lanka appeared first on Zex PR Wire.