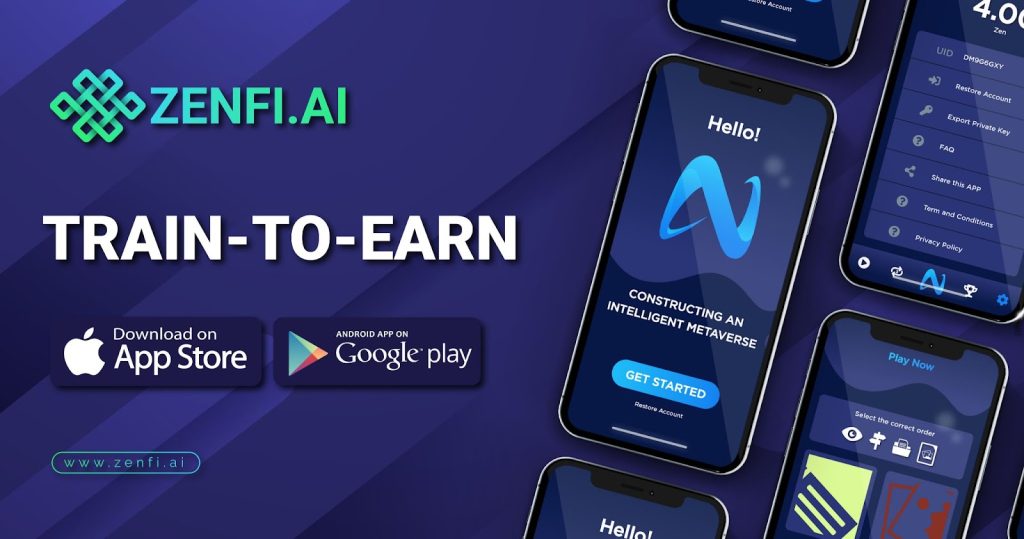 Brussels, Belgium, 13th March 2022, ZEXPRWIRE, The Metaverse is believed to be the evolution of Technology. A seemingly sci-fi world has become reality, and it will facilitate people to socialize, learn, collaborate and play in ways that go beyond their imagination. Among many tech giants and technology projects that are racing to materialize Metaverse, ZenFi AI ambitiously makes their steps forward.
ZenFi AI aims to build an Intelligent Metaverse that hosts intelligent NFTs (iNFT). They embed artificial intelligence, representing their creator in the Metaverse. The project also spread the notion of a Train-to-Earn model, which basically attempts to introduce financial incentives into the training pipeline for their iNFTs. The Train-to-Earn shares some similarities with the Play-to-Earn model. Instead of doing tasks for entertaining purposes and earning tokens, users are doing tasks in the Train-to-Earn model to provide a dataset for iNFT and receive attractive rewards. 
This March, ZenFi AI is launching their very first Train-to-Earn mobile application. The app is designed with a playful appearance, and straight-forward to interact with. Users are presented with questions that primarily involve pattern recognition, and object identification. The questions may have an increasing level of difficulty, and range from close-ended form to open-ended nature. The answers provided by the users to open-ended natured questions are evaluated based on peer-review basis. A form of consensus is executed to pick most agreed upon answers. These are then fed at ground truth and training data set to the training pipeline of ZENFIi on our iNFT.
When participating in building the dataset, users will be rewarded with points which can be used to pay for services from Youtube, Netflix, App Store, CH Play. When the App reaches a sufficient number of users and the App verification is completed, ZenFi AI will announce the integration of the feature to convert the reward points from the App to ZENFI Token which is ZenFi AI ecosystem's native token. In this spirit, if the app is sufficiently well-designed and the questions are adequately engaging, there will be an additive element to it. Gamification would be a nice approach to explore.
ZenFi AI Mobile App is now available on both Apple Store and Google Play. You can download and experience the new model of Train-to-Earn via:
Apple Store: https://apps.apple.com/us/app/zenai/id1611860603
Google Play: https://play.google.com/store/apps/details?id=app.zenai.io
Media Contacts
Zenfi
The post Zenfi AI Launching Their Train-to-Earn Mobile Application appeared first on Zex PR Wire.