Talented American author, M.J. Jones, announces the release of Black Star Eclipsed, the second part of the Black Star Trilogy book series, continuing the captivating story of Mia Black.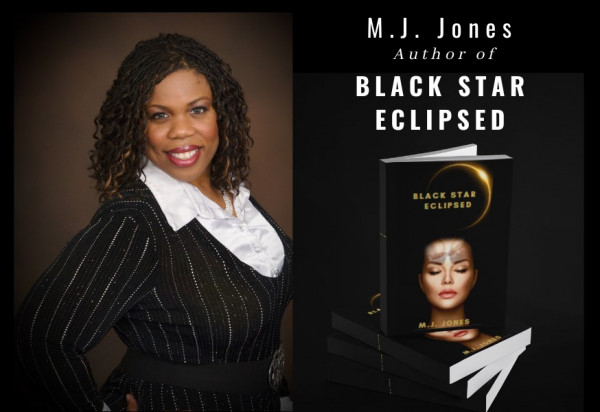 United States, 30th Jul 2022,  In Black Star Eclipsed,  a continuation of the Black Star story, M.J. Jones takes her fans and readers on an amazing journey as she illustrates the dynamism of power using an epic drama involving Mia's family and their unique world. The book is available for readers across the globe.
"I wanted to create content about real people becoming heroes and using their power to uplift each other. What's so special about the second book is that it focuses on the world that Mia lives in. In my universe, the first book laid the foundation for scientific evolution and now the second book focuses on the power dynamic between the Elite and the Poor." – M.J. Jones.
Black Star Eclipsed is particularly unique, as M.J. Jones typifies contemporary issues across the globe, especially as it concerns diversity and power struggle, using love as the foundation of the undying spirit of humanity. The series follows parents struggling to educate children to be leaders while staying true to the lore of comic books, psychological thrillers, and mysteries; all rolled up into an amazingly entertaining science fiction tale of hope. M.J. Jones unravels different narratives within a story, focusing on factors that move society forward.
The author seeks to continue with the feats achieved following the release of Black Star, which has received rave reviews from different categories of readers. "Reminiscent of N.K. Jemison and Dan Patrick, Black Star is an amazing tale of family, love, loss, and the human condition. It begs the question of "what would you do if…", making the reader think about how they'd react in certain situations. Sneaky government agencies, hidden locations, and familial bonds are the backbone of this fantastic tale. This story proves that if you are surrounded by good people when bad things happen, you're never without hope. Can't wait for the next installment!" – JustTrina.
Black Star Eclipsed navigates how Mia deals with issues, ranging from heartbreak to the death of her spouse, loneliness, and her daughter's kidnapping, amidst the struggles of balancing a career. The book addresses mental health, love, loss, insecurities, and growth, all combined on the backdrop of a super-science fictional series.
The Kindle and Printed versions of Black Star Eclipsed will be available on Amazon as well as other major platforms, including Barnes and Noble, Kobo, Smashwords, and a host of others.
For further information about Black Star Eclipsed and the rest of the Black Star Trilogy: Black Star & Black Star Rising, visit – https://www.blackstartrilogy.com/.
Source:  https://wp.me/p3cyvH-bT2
Media Contact
Organization: Black Star Eclipsed
Contact Person: Author, M.J. Jones
Email: Send Email
Phone: 941-586-2070
Country: United States
Website: https://blackstartrilogy.com/
The post Author, M.J. Jones Launches Black Star Eclipsed, A Book That Emanates Parenting with an Imaginative Science Fiction Tale of, Hope and Love appeared first on King Newswire.

Information contained on this page is provided by an independent third-party content provider. Binary News Network and this site make no warranties or representations in connection therewith. If you are affiliated with this page and would like it removed please contact [email protected]