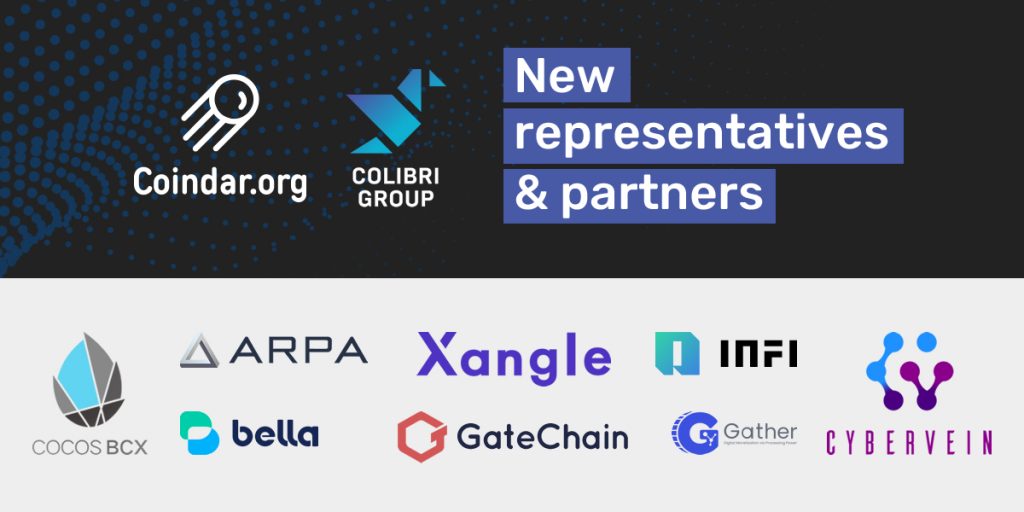 Moskva, Russia, November 16, 2020, ZEXPRWIRE, The Cocos-BCX, ARPA and Bella Protocol crypto projects became new companies that opened official representatives at Coindar. Official representatives of the cryptocurrency have a wide list of possibilities — to increase trust to news, to quickly edit information about the project, to add progress reports, etc. Now Coindar users will be able to get the most actual and verified information from the above-listed projects. 
Also, in October, Coindar and Colibri Group entered into a strategic partnership with Xangle. As a result of this cooperation, Xangle now represents the interests of Coindar and Colibri Group in Asia, particularly in South Korea. As part of this partnership, Coindar is also expecting multiple integrations in the near future that will bring practical use to all Coindar users.
Cocos-BCX
Cocos-BCX is a platform for the development, operation and management of decentralized applications and the circulation of in-app assets on blockchain.
The goal is to provide an improved and easy-to-use blockchain gaming infrastructure for game developers, including a visualized development kit and an on-chain ecosystem. Developers can develop blockchain games directly in a graphical way without the need to solve any blockchain technical problems, which greatly lowers the barriers and raises the efficiency. 
The aim of Cocos-BCX's team is to provide game players a just, fair and open game environment with transparent data and clear rules, which is free from item drops caused by behind-the-scenes manipulations and revulsive consumption, enabling players to save their assets in a permanent, secure and decentralized way.
ARPA
ARPA is a blockchain-based solution for privacy-preserving computation, enabled by Multi-Party Computation («MPC»). Founded in April 2018, the goal of ARPA is to separate data utility from ownership, and enable data renting. ARPA's MPC protocol creates ways for multiple entities to collaboratively analyze data and extract data synergies, while keeping each party's data input private and secure. ARPA allows secret sharing of private data, and the correctness of computation is verifiable using information-theoretic Message Authentication Code (MAC).
Bella Protocol
Bella is a suite of open finance products including automated yield farming tools, lending protocol, 1-click savings account, customized robo-advisor, and more. The team believes everyone deserves equal access to premium financial products and services with elegant design and smooth user experience.
Bella brings your familiar mobile banking into crypto with just one click. With Bella, you can just simply sit back, watch your asset grow, and leave all the heavy-lifting to secure, automated smart contracts.
Bella's core team consists of serial entrepreneurs and blockchain veterans who have tremendous experience and proven track record in finance, cryptography, blockchain, and engineering.
Xangle
Xangle is the disclosure platform for the crypto market. The project admins provide company information and other off-chain data on the Xangle platform. Xangle sources and curates on-chain data and assists in off-chain inputs. The combination of on-chain and off-chain datasets can provide a complete 360-degree overview for any crypto asset.
In this way Xangle solves the problem of slow dissemination of material off-chain information.For example, companies are required to make regular filings to regulators and reveal information about their operations. Xangle provides 'Disclosures' for crypto projects to voluntarily publish essential and time-sensitive information to the public.
Colibri Group
Colibri Group was founded in 2018 with the purpose of international positioning of a number of organizations within this structure. The operational business of Colibri Group has been operating for over 10 years and has successfully established itself on the market of business consulting, audit, commercial equipment, and IT. The company is licensed by the Federal Security Service of Russia to develop cryptographic encryption means, information systems and provide services in the field of information encryption.
Blockchain direction of Colibri Group includes community management, consulting, and promotion of crypto projects in Russia and CIS. Colibri Group has repeatedly received awards and encouragement as a company that creates the most powerful and high-quality local communities for cryptocurrency projects. Current clients and partners of Colibri Group are leaders of cryptоcurrency industry such as Bingbon, ARPA, Bella Protocol, Waltonchain, Algorand, CyberVein, Gate.io, and dozens of other media and blockchain partners.
Coindar
Coindar is a cryptoсurriency news calendar. Coindar was created in 2017 and is the most important fundamental analysis tool for many traders and investors. Leading industry media such as TheNextWeb, Bitcoin.com, CryptoPolitan, CoinDesk, Investing.com, ForkLog have reviewed or are referring to Coindar. The Coindar team is always on the pulse of the crypto industry and collaborates with the world's largest industry conferences such as Digital Summit, DeFi Summit, Blockchain Life, Cryptofin, Decetralized, and others.
More than 100 cryptocurrencies have representatives in Coindar, including Crypto.com, Ontology, ARPA, IOST, LAToken, PIVX, DentaCoin, WaltonChain, and others.
Coindar Synergies is a platform for holding events of any complexity. At Coindar Synergies, cryptocurrencies hold AMA, contests, webinars, and other events.
The post Cocos-BCX, ARPA & Bella Protocol opened official representative at Coindar appeared first on Zex PR Wire.