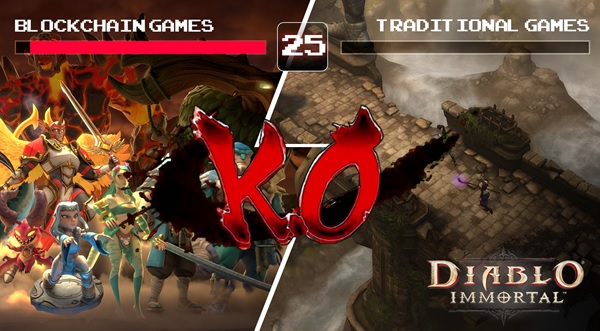 Barcelona, Spain — Blizzard once was a game developer beloved by all, they could do no wrong, and almost every major release was met with praise by critics and gamers alike.
Blizzard was the goose that laid golden eggs for the fans and critics. But this would not remain the case for long.
The world witnessed several scenarios of eagerly waiting and praying for game releases and having to meet with infamous and hated reveals. Although some of them were so bad that members asked if it was an April Fool's joke! Years down the line, even after the multiple games released on mobile devices and PC, much to the dismay of everyone, the world's witnessing a rise in what's called "pay to win" mentality, with some analysts discovering that some games cost over $100,000 to max out their characters. Not to say that the games are objectively wrong. Many games are enjoyable and don't require players to spend a penny. Some games still need microtransactions, and due to their loot box nature, such as Diablo Immortal's, they've been banned in two countries! There are an estimated 3.1 billion gamers worldwide, and some sources estimate up to 2.6 billion of them are on mobile devices. The global revenue of the gaming industry is estimated to be over $176 billion, with up to 85% of that revenue coming from 'free-to-play or freemium games. This is relevant here because while free-to-play gaming has been around for a long time, it went mainstream and blew up in popularity with the rising popularity and mass adoption of mobile gaming.
Smartphones essentially put handheld gaming consoles in everyone's hands. Making games free to play allowed gamers to 'try out' games by effortlessly downloading them and playing them on the go (and on the toilet). While many of the microtransactions in many games are considered fair, there have been some highly egregious cases of games being completely gated by 'paywalls'. Regardless, gamers are clearly still happy to fork out their hard-earned cash for microtransactions in free-to-play titles, whether they are considered fair or not, as is evident by the industry's growth. Even games with highly negative reviews and widely considered 'not fun' are still being played. Not one penny of the money gamers spend on these games will ever be returned to them in any way, shape or form. There is no ROI because gamers don't consider it an investment. Whether or not they know of it, the players never truly own any of their digital assets; hell, they don't even own the games in their Steam libraries! That's where web 3.0 can make a difference. For the first time ever, every user will truly own their digital assets, and no one, not even the developers, can do a damn thing about it!
The potential impact of web 3.0 on the gaming industry has not yet been realised. Everyone is so caught up in this whole 'play to earn' trend that they don't realise the incredible benefits that blockchain technology can have. Instead of, for example, paying 60 dollars for a game on Steam that you technically don't really own, you would pay for an NFT that functions precisely the same way as a digital copy of a game (But does it tho? Maybe not yet in terms of Quality, but keep reading). The difference is that you own it; you are free to sell or trade it at will. All the grinding players do for loot, and gold can be safely and freely traded on the open market. The money made by selling rare skins from opening CS: GO cases will no longer be forever stuck in Steam; players can spend it anywhere they want or withdraw it if they choose. Massive companies like Square Enix, the developers behind the Tomb Raider games, have begun to move to Web 3.0. Manel Sort's Games 4 A Living, the man who created the legendary game Candy Crush, has also entered the Web 3 gaming space to show the world that Web 3 games can be fun and give players a return on their investment.
Elemental Raiders is a free-to-play title with a unique twist. It will feature an optional game mode for those who purchase the NFTs with additional earning opportunities, but this does not change anything about the gameplay itself. It simply allows players to spend money for a potential ROI while not gatekeeping any of the gameplay or content behind paywalls. The free-to-play model of Elemental Raiders will be released on Steam, making it one of the first web 3 games to feature on the world's largest digital distribution platform. That's really where blockchain gaming can shine. When used to ENHANCE the gaming experience in sound, fun games. When earning is a happy byproduct of the gaming experience, not when it is the only goal. When players have the freedom to do whatever they want with their hard-earned assets, whether they made them by grinding or buying them.
Media Details:
Company Name: Games For a Living (G4AL)
Company Email: [email protected]
Website: https://www.g4al.com/