The Roebling-based mobile repair facility offers quick & reliable servicing at the most competitive prices. The company's mission is to make it as easy and convenient for consumers to get their iPhone fixed so they can use them again, without a long wait time and draining their wallets.
Roebling, NJ, 10 June 2021, ZEXPRWIRE, An iPhone is one of the most precious belongings of many out there, with immense monetary and emotional value. Even if iPhones aren't designed to break down easily because Apple puts them through rigorous testing, accidents still happen, leaving the cellphone users with a lot of confusions like How to fix my phone screen at home or is it better to get my iPhone screen fixed by a professional, questions about the cost associated, turnaround time and more!
Everyone in such a situation desires to get their phones functional again quickly, which is why many get inclined towards quick YouTube fixes and end up creating more damage. Nothing beats the skills of an experienced technician who know what they're doing and have practical hands-on experience to ensure that the repair is done correctly therefore iPhone Repair Techs of Burlington County brings the most skilled technicians to a single place to offers a reliable service for everyone actively looking for a high-quality repair for their phones in the region.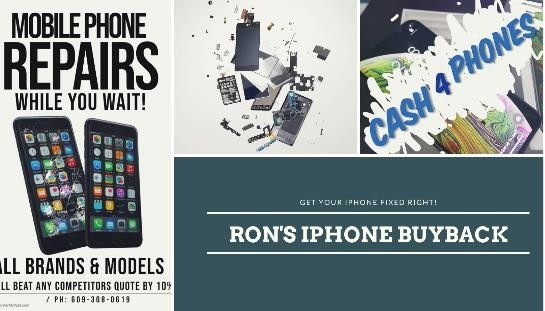 iPhone Repair Techs is a repair workshop owned by a seasoned mobile repair specialist Ron Randall. Located at 65 Railroad Ave Roebling, NJ, they are currently offering a wide range of repair and replacement services. From broken LCD fixes to repairing broken home buttons, defective cameras damaged charging ports, and even unlocking issues; their technicians handle it all. The experts with a goal to put their customers back on the go as soon as possible are trained to perform quality repairs and have been fixing iPhones for quite some time now. They're proficient enough to repair any problem quickly and mostly on the spot.
"Our team has been fixing iPhones for years. We offer quick service and a variety of options to fix your broken screen, including screen replacement and LCD repairs. Our experts are courteous and knowledgeable about all the latest models so they can help you find the best option for your needs. Bring us your phone today!" said Ron Randall, Owner of iPhone Repair Techs of Burlington County
Ron wants the customers to feel like they are welcomed into their home when they walk through the door of his store and guarantees that their device for repair and data is in safe hands. The technicians at the shop only use certified tools and pieces of equipment for all the repairs to ensure the longevity of the devices and bring perfection to their work. They also offer free estimates on the cost of each repair before starting any work–which gives customers a better idea of what they might be getting into financially. In addition, the company provides excellent customer service while solving any problems customers may have with their phones or devices and keep them in the loop throughout the repair period. For more information, call now at (609) 297-7149 or use the information below!
Media Contact:
Contact Person: Ron Randall
Business Name: iPhone Repair Techs of Burlington
County Business address: 65 Railroad Ave, Roebling, NJ 08554, United States
Business phone: (609) 297-7149
Business e-mail: [email protected]
Website: https://iphone-repair-techs-of-burlington.business.site
Facebook Page: https://www.facebook.com/sellmyiphonefas
Get Direction : Click Here
The post iPhone Repair Techs of Burlington County- A One-Stop Shop for Resolving All Kinds Of iPhone Damages and Issues appeared first on Zex PR Wire.