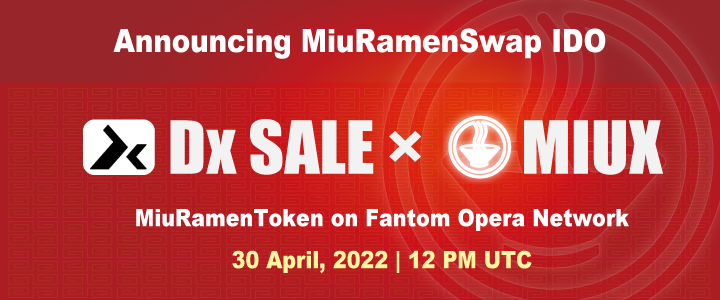 Tokyo, Japan, 15th April 2022, ZEXPRWIRE,
MiuRamenSwap is happy to announce that MiuRamenSwap has selected DxSale(Dx.App) as one of their launchpads for their IDO.
IDO Details
Chain: Fantom Opera   
Start date: 30 April 2022 at 12 PM UTC
Listing On : SpookySwap
Contribution Limits : Min: 0.1FTM, Max : 450FTM
Price per token: 53 MIUX per FTM
Total allocation: 9000FTM ( SoftCap : 4500FTM, HardCap : 9000FTM )
SpookySwap Liquidity : 70%
About MiuRamenSwap
MIUX tokens deployed on the Fantom Opera network are managed by rules developed by carefully selected agents to automate certain operations without the use of delegates. This provides enhanced security, privacy, and protection. The most important feature of decentralization is that it reduces risk and increases transparency. the MIUX ecosystem includes several solutions that allow users to generate and manage synthetic assets on the network. MiuRamenSwap has been used by DeFI, Smart Contracts Gaming and This is one platform to realize about the use of gambling and NFT.
The MiuRamen token
Ticker: MIUX
Contract Address: 0x522A949651052385C542e5F6f7f4610F5b2F54Bd
Total Supply: 1,000,000 MIUX
About DxSale (DxApp)
With currently 13 supported chains, Dx is the biggest IDO Launchpad in the crypto space. As a truly decentralized token management platform, we aim for a low-barrier approach to launching your project. Instead of a steep learning curve and cumbersome interfaces, our platform will provide all the necessary tools to create and launch your project with no prior coding skills required.
Links
MiuRamenSwap Main web site:
MiuRamenSwap WhitePaper:
MiuRamenSwap Telegram:
The post MiuRamenSwap Upcoming IDO on DxSale! appeared first on Zex PR Wire.